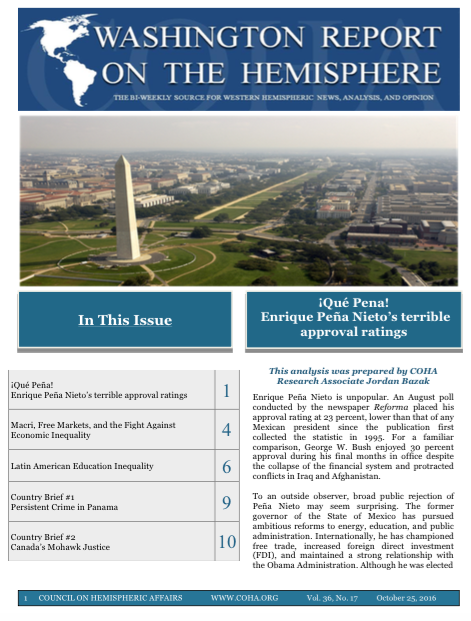 The Latest Washington Report on the Hemisphere is out:
In the latest issue, you will find the following analyses:
Articles:
1 – "'¡Qué Pena!' Enrique Peña Nieto's terrible approval ratings" by COHA Research Associate Jordan Bazak
Enrique Peña Nieto is unpopular. An August poll conducted by the newspaper Reforma placed his approval rating at 23 percent, lower than that of any Mexican president since the publication first collected the statistic in 1995. For a familiar comparison, George W. Bush enjoyed 30 percent approval during his final months in office despite the collapse of the financial system and protracted conflicts in Iraq and Afghanistan.
2 -"Macri, Free Markets, and the Fight Against Economic Inequality" by COHA Research Associate Philippe de Bonneval
December 10, 2015, marked an important shift in Argentina's economic policy. On that day the former mayor of Buenos Aires and leader of the center-right political party, Propuesta Republicana, Mauricio Macri, was chosen as the country's new president. This put an end to twelve years of leftist Peronist policies in the country led by Néstor Kirchner (2003-2007) and by his wife Cristina Kirchner (2007-2015). Mr. Macri was elected on the promise that he would adopt a more liberal set of policies to reenergize the Argentinian economy. Nevertheless there are risks to this economic plan, which will be examined here in order to weigh the benefits of his free market approach against the historic problems that similar polices caused in Argentina several decades ago. Macri must be careful in implementing his policies so as not to create the same free market complications that nearly destroyed the country's economy in 2001.
3 – "Latin American Education Inequality" by COHA Research Associate Austin Downs
Amidst a session of turmoil in Latin America, ranging from rioting miners in Bolivia, the Venezuelan economic crisis, to the political upheaval in Brazil, the worsening state of education has been overshadowed and atrociously neglected. Currently, there are 165 million youth under the age of 15 in Latin America, of which 13 percent of this demographic, approximately 22 million children, are annually vulnerable of either not consistently attending school or are expected to drop out altogether. In identifying and deconstructing the various factors that perpetuate the poor quality of Latin American education, central themes include issues of internal funding imbalances, the correlation between poverty and school incompletion rates, and the absence of international aid.
Country Briefs:
1 – "Persistent Crime in Panama" by COHA Research Associate Melanie Landa
Despite the undeniable decrease in homicide rates, Panamanians maintain that civilian insecurity is still a great public concern.
2 – "Canada's Mohawk Justice" by COHA Research Associate Debora Iozzi
In August 2016, the Mohawk Nation at Akwesasne -"where the partridge drums"- became the first indigenous community in Canada to adopt an indigenous legal system outside of the federal framework. Although it has yet to be defined how the Canadian government will recognize it inside the federal scheme of representation, the establishment of a native court, independent from Ottawa, is a landmark achievement in the path towards complete self-governance for indigenous populations.
For over 35 years, the Council on Hemispheric Affairs, led by its long-time director and a former professor, Larry Birns, has striven to produce the most in-depth analysis of a full range of inter-American issues. All of its findings are regularly incorporated into its highly regarded 30-year-old biweekly publication, the Washington Report on the Hemisphere.
The Council on Hemispheric Affairs' biweekly publication, the Washington Report on the Hemisphere(WRH) is widely considered to be one of the most respected and reliable publications of its kind. Circulating since 1980, the WRH has a far-reaching audience consisting of academics, regional analysts, and editorial page editors, corporate vice presidents for Latin American operations, senior financial officers, respected journalists and diplomats throughout the globe.
You can subscribe to the Washington Report on the Hemisphere on a regular basis through the following link: