The Libyan War of the Empires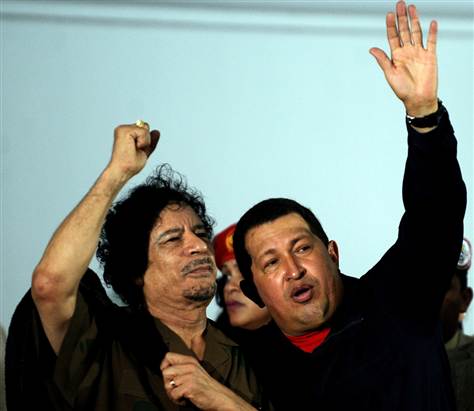 Muammar Gaddafi, a man who normally shunned courtly friends in the Arab world, ruled his country from 1969 until August 2011, when Libyan rebels defeated the authoritarian ruler. After the overthrow of former Presidents Mubarak of Egypt and Ben Ali of Tunisia during the Arab Spring, it was only a matter of time before local reformers brought down Gaddafi. During his period of resistance, Venezuela's Hugo Chávez and Cuba's Castro brothers began to speak out in the fleeting leader's defense as some of the only Latin American leaders that strongly supported the Gaddafi regime. On February 21, 2011 Fidel Castro stated that he could not imagine that Gaddafi would abandon his country after fighting broke out. Fidel strongly condemned the United States and the North Atlantic Treaty Organization (NATO) for their role in Gaddafi's overthrow suggesting that these organizations were looking for a format to establish what grounds they could use to undermine a regime that no longer was useful to Western interests. By this time, he claimed that nationalist stirrings were nothing more than a ruse for establishing a strong Western military presence in the rich oil country, which could then be turned to their own self-interests. According to Fidel Castro in a letter signed on March 9, 2011, the U.S. "empire" was attempting to turn its focus toward what Gaddafi had not done during his rule in order to justify the right to "militarily intervene in Libya." Chávez, like Castro, strongly criticized the imperial aggression of the "Yankee Empire and its European allies," claiming that the uprisings in the Arab world were a result of "Western-led destabilization." Concerned for the deposed leader's safety, Chávez sent prayers to Gaddafi, standing in solidarity with him against American aggression.
On October 20, 2011, forces loyal to Libya's newly formed National Transitional Council (NTC) had found Gaddafi hiding in a cement drainpipe running beneath a road in his hometown of Sirte. The fugitive leader had died from a massive bullet wound to the head allegedly in the midst of crossfire between the NTC and forces loyal to Gaddafi. Gaddafi, stripped from the waist down, was driven to the neighboring town of Misrata, where hundreds of Libyan rebels gathered outside a refrigerated meat store to see the bloodied and battered dictator lying dead. On October 24, 2011, Fidel Castro expressed his personal rage over these events, including the mistreatment of Gaddafi's body, claiming that the corpse was "kidnapped and exhibited like a trophy of war…" President Chávez, who had maintained a long-time relationship with the Libyan dictator, lamented the death of Gaddafi, saying that he will always be remembered as a great fighter, a revolutionary, and going so far as to call him a martyr. Chávez has referred to the NTC Libyan rebels as terrorists, and has vehemently condemned NATO for installing the NTC "through bombs in Libya and through a genocide […] and an assassination." Along with Chávez, presidents Raúl Castro of Cuba, Evo Morales of Bolivia, and Daniel Ortega of Nicaragua, all of who had expressed similar bitterness over his death, also refused to recognize the NTC as Libya's new government authority. In contrast, other Latin American officials, such as Brazil's foreign minister Antonio Patriota have been supportive of the Gaddafi overthrow and the installation of the NTC, expressing hope that violence in Libya could come to an end and Libyans could now head toward national reconstruction. Despite mixed international response to what has transpired in Libya, the loudest voices from Latin America have been those of the left-leaning leaders that have vehemently opposed and chosen the opportunity to condemn Western interference in the Arab world. Although the U.S. and NATO had entered the Libyan conflict with the intention of protecting Libyan civilians who were being oppressed by the Gaddafi regime, Washington's concern, as popularly believed, was also very much integrated in Libyan oil.
As a number of Latin American leaders have traditionally opposed any form of manifestation to Western encroachment on state sovereignty in the region, U.S. relations with countries such as Cuba and Venezuela may become more tense due to this most recent example of the West's intervention. Not only will Gaddafi's death and the overthrowing of his regime have a long-lasting impact on U.S. and Latin American relations, but certain Latin American and Libyan ties will also be strained by the entire violent affair. Already, the left-leaning presidents in the arena are shunning Libya's newfound democratic government. In particular, Venezuela and Libya must now work to re-establish ties within the Organization of Petroleum Exporting Countries (OPEC), since Venezuela's president Chávez has denounced the country's new government and criticized its prospects for a peaceful resolution. The lack of support for the new Libyan government on behalf of Latin American figures such as Castro, Morales, Ortega, as well as Chávez highlights the sense of illegitimacy that certain Latin American countries feel toward U.S. imperialism. As is evident, a number of controversial Latin American leaders who have historically held a deep-rooted apprehension toward the West have lost an ally of the stature of Gaddafi at the hands of a venomous adversary, which may only further fuel the anti-U.S. rhetoric originating in the region and routinely targeted at Washington.