Re: "Venezuela Challenger Henrique Capriles Highlights His Vigor"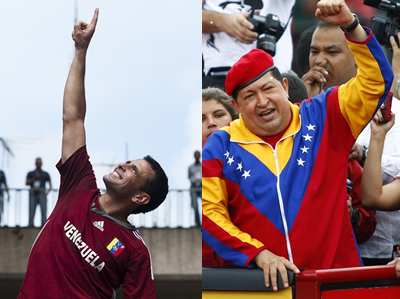 Dear Editor,
Your September 2 article, "Venezuela challenger Henrique Capriles highlights his vigor," focuses on political preferences and election wariness as distinctive features of Venezuela's upcoming elections. However, one could argue that it is difficult to adequately judge how candidates become national favorites, thus making it extremely challenging to determine both candidates' relative popularity.
First and foremost, Consultores 21, one of the most respected polls in Venezuela, has established that incumbent Hugo Chavez's opposing candidate, Capriles, is leading the polls by 1.8 percent. However, Data análisis, a left-leaning poll, emphasized that one third of the electoral body consists of undecided voters.
These polls come in even as Venezuelans' confidence in public institutions is low.  After the 2004 presidential referendum, former Member of the National Assembly, Luis Tascón, disclosed the so-called "black list" of the referendum petition signers. Consequently this list was used as a tool to pressure and intimidate the electorate, even though President Chavez dismissed this list as a source for hiring and firing in public institutions. This episode sparked skepticism toward the National Electoral Council´s service to its responsibilities. Nonetheless, Data análisis and Universidad Católica's recent studies revealed that 79.3 percent of the citizens said they will vote without fearing reprisal. This figure indicates that Venezuelans might be ready to openly express their political preferences, in spite of the background buzz openly suggesting the opposite.
Sincerely,
Isabella Troconis
Research Associate at the Council on Hemispheric Affairs
In response to the Los Angeles Times, http://articles.latimes.com/2012/sep/02/world/la-fg-venezuela-capriles-20120902
Please accept this article as a free contribution from COHA, but if re-posting, please afford authorial and institutional attribution. Exclusive rights can be negotiated.