Grief and Some Riddles Surround the Death of Paraguayan Strongman Oviedo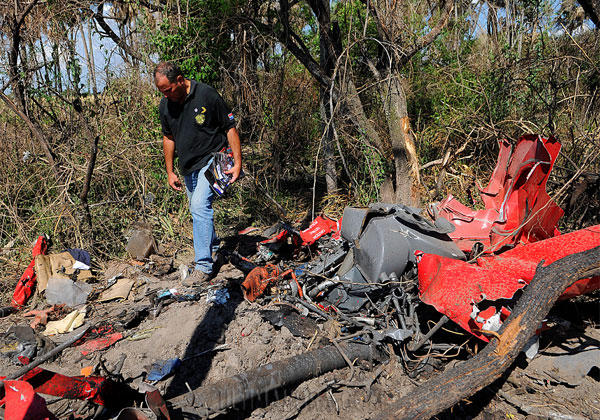 The February 2, 2013 helicopter crash in Concepción, Paraguay claimed the lives of the three on board, including Presidential candidate Lino Cesar Oviedo, leader of the nation's third largest party – the National Union of Ethical Citizens (UNACE). He had an extensive military education and a career in the Paraguayan cavalry and was the right-hand man to Andrés Rodriguez during the latter's military coup of Paraguay in February 1989. UNACE was founded by Lino Oviedo in 1996, after an inevitable split between General Oviedo and the Colorado Party had taken place.  The helicopter crash evoked a pall of mourning throughout the nation, with recently inaugurated President Federico Franco calling for three days of mourning. Oviedo left behind a controversial legacy that will inevitably, transform the contesting political campaign among the country's most important parties.
The Military Man Turned Politician
Lino Oviedo was a retired general and Paraguayan army commander, who made his most significant mark on the country's security scene in 1989 when he played a major role in the expulsion of the Paraguayan military ruler, General Alfredo Stroessner, and his legendary 35-year stranglehold of the nation. After his involvement in the anti-Stroessner coup he quickly ascended the Paraguayan army's command; however, he was forced into retirement in April of 1996 due to his involvement in an attempted coup against President Juan Carlos Wasmosy.
Consequently, Oviedo's campaign for the presidency of Paraguay cashiered him at the time as a result of his conviction and sentencing in a military court in May of 1998. The last event ended his run to be the candidate for the presidency and ended up drawing down a 10-year prison sentence. He avoided serving time on this occasion by fleeing to Argentina and then Brazil. Oviedo's Vice-Presidential candidate running on his ticket, Raúl Cubas, consequently won the election. Upon the beginning of Cubas' presidential term at the Palacio de Lopez, the latter advocated the overturn of Oviedo's conviction. However, in 1999 after the assassination of Cubas' deputy Vice-President, Luis María Argaña, he stepped down as President and some speculated that it was Oviedo who was the mastermind behind this violent attack. Six years later, once again speculation arose that Oviedo was behind the kidnapping of Cubas' daughter, Cecilia Cubas, which lead to her murder later that year. In 2004, Oviedo returned to Paraguay and was consequently detained. Suspicion of Oviedo's involvement in the assassination plot dissipated once he was granted an early release from prison in 2007, thanks to then President Nicanor Duarte Frutos. The latter hoped that Lino Oviedo's early release would help the Colorado Party maintain the presidency rather than ending his party's six decades of rule over the country.  In the following year, Oviedo once again decided to run for the presidency.
During his second attempt at achieving the presidency, Oviedo came in a disappointing third place according to the ballot count, with over 400 thousand votes. His party won nine senatorial seats and 11 out of the 45 seats available for the Chamber of Senators and 80 available for the Chamber of Deputies, national representative seats at the national Congress Lower and Upper Chamber.[1] UNACE, the party shaped by Oviedo, has described its candidate as "the father of democracy,"[2] a result of Oviedo's past efforts to oust the Stroessner dictatorship. Oviedo's religious beliefs also accounted for a portion of the public's support, as he incorporated numerous Catholic ideals in his various platforms. These were based on his credential beliefs in equal rights and moral ethics, even though behind the scene he assiduously had established himself as one of the wealthiest men in post-Stroessner Paraguay.[3] Furthermore, Oviedo was the sole candidate who wanted to build a brand new comprehensive campus that would enable the current Lopez Palace to become a museum and not presidential offices, as it now is. Free education for all Paraguayan children, equal rights and benefits for all individuals, and recognition of those rights of all citizens of the republic,[4] these ideals were central to the structure of UNACE. His economic objectives were based around his 2013 campaign themes: to ensure that investments were being made in overseas industries as a means of providing for all sectors of the country's economy and its strategy for development.[5]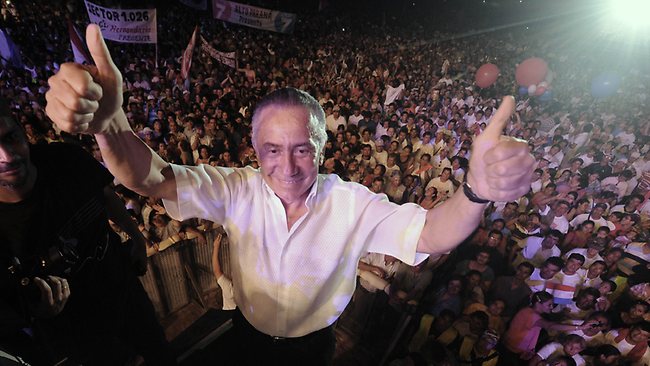 His Ideology and Efforts to Transform the Country
Oviedo's death will have a shaming impact on his own party, as well as the Paraguayan nation.  As the leader of the UNACE and the primary political candidate for the group of those who went down with him, there will have to be a gathering of 45 candidates to discourage the necessary senatorial seats. Furthermore, there remains the need to decide the additional candidates for representatives to the lower chamber of the Congress in order to carry on parliamentarian procedures to decide and introduce a new Presidential candidate and his running mate. This is according to the party's rules that will be used to guide a new set of successors who will be counted on to determine the party's new officials. Oviedo's wife, Raquel Marien Oviedo, also has stated that she would support the party by adopting the party's leadership role, though she is unable to take her husband's place in the campaign.[6] Her goal since her inception into the position has been to reestablish the coalition between the UNACE and the Partido Liberal Radical Auténtico, or Authentic Radical Liberal Party (PLRA), the country's second largest party. In the past, the two parties have been closely allied as they worked for the impeachment of President Fernando Lugo as a result of the President's mistreatment of Paraguay's Curuguaty Massacre in 2008. UNACE and PLRA worked together, putting aside the parties' competing views, to enact the impeachment of the ruler. President Lugo was subsequently impeached, however, it was Federico Franco, of PLRA who was elected Lugo's successor, and the result was a severed alliance between parties. The significance of a revitalized union is that the current mandate by President Federico Franco would be succeeded by a joint UNACE-PLRA presidential ticket that would move forward both parties' aspirations for a more democratic and just Paraguayan society. Another important factor is also the swing voters that the coalition could account for in their favor.[7] Lastly, UNACE has played a major role in the Senate, allowing Oviedo to introduce many laws pending in the nation's legislature.
Oviedo's demeanor for the 2013 election did not migrate far from his original ideology: prior to his death, the general's priority was to establish sources of job creation and channel a populist rhetoric in preaching that his followers were being systematically neglected by the more powerful elements of society. His recent efforts as a candidate were focused on less prosperous areas of the nation, especially appealing to the local 28 native tribes and using Paraguay's second official language, Guaraní, to communicate between rural and urban populations. With that, he sought to establish projects that offer materials to impoverished areas, such as the Motocarga program, which assembled 550 motorcycles for various personnel among several communities.[8] The program was designed with the intention that it would be a service to the community given its goals to transfer products and to facilitate more cooperative industries.[9] Furthermore, Oviedo was also a strong supporter of public health reform and free health care facilities for families with very little to no resources. UNACE was the only party with a nationwide leader, who has visited every corner of Paraguay in his campaign. Oviedo's efforts to change the nation will indisputably continue on into the future. One issue still remains: the speculation behind cause of the crash that lead to his subsequent death.
The "Mystery" Behind the Crash
The last contact made with the helicopter was with the pilot, who expressed the need to change course due to the severe weather and relay what was the subsequent cause of the crash. Soon thereafter, witnesses say they heard a single explosion, later believed to have killed the passengers and destroyed the helicopter.[10] However, the mystery still remains regarding the cause of the explosion. While authorities have stated that initial investigation points toward an accidental cause, at this point, the exact reason for the crash remains unknown. Oviedo's supporters, however, are vocal in the nature of the crash, as some of them publicly assume that the crash was essentially an assassination. There are some speculations stating that perhaps the helicopter was shot at, causing the explosion.[11] U.S. experts have rushed to Asunción to investigate the causes of the crash. The magnitude of this tragic accident has the same proportions of the former Polish President's tragic death in the forests of Lech Kaczyński, an accident in which Poland's president, together with many of his close collaborators and Polish generals, perished.
 Oviedo's supporters' speculation comes from the fact that the occurrence had marked the 24-year anniversary of the initial coup that had sparked Oviedo's preeminence in the army. For example, those like César Durand, a spokesman for UNACE, observed, "It's too much of a coincidence"[12] for there not to be a connection, and another spokesman at the Radio Nanduti, said, "This is a message from the mafia."[13] Such speculation is directed towards the enemies that Oviedo was thought to have made in recent elections, putting him at odds with those involved with a full range of questionable activities to be encountered in the workings of the regime, ranging from drug trafficking to money laundering.
Official reports by authorities have found no such foul play in his death, but Civil Aviation Director, Carlos Fugarazzo, has acknowledged they will be flying experts in to professionally investigate the circumstances of the crash. At this time, there is little evidence to support any conspiracy claims besides the coincidence linked to the date of the crash. However, Interior Minister Carmelo Caballero has said that, while the government is investigating the crash, nevertheless, "[w]e cannot rule out any hypothesis."[14]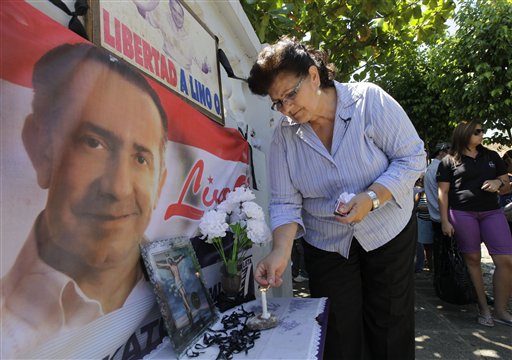 Although many reports surrounding Oviedo's death point to an accidental cause, it is certainly not unheard of for sabotage to be suspected for justifying the cause of this and other aircraft crashes, considering how the flight coincided with the 24 anniversary of Oviedo's coup against the past dictator Alfredo Stroessner. One instance of suspicious aircraft malfunction involved the downing of Bolivian President Rene Barrientos, in which case a rotor malfunction was the reported cause of the fatal crash. However, rumors of sabotage are still in circulation around Bolivia. A more plausible case of conspiracy surrounding an aircraft crash involved Ecuadorian President Jamie Roldós Aguilera in May 1981. The official reports of the crash attributed the incident to an overload in the cargo hold of the plane, however, a number of inconsistencies became known, which led to further suspicion and investigation. The Ecuadorian government shut down the investigation when reports came out revealing that the plane's engines had been turned off prior to the crash, a possible hint in revealing the true cause of the crash. While there have been multiple other cases of fatal aircraft crashes, there is a more resounding notion that the ultimate cause was accidental. Like the former presidents who have lost their lives, or have been harmed as a result of aircraft crashes, Lino Oviedo's death has brought with it a number of speculations probably mainly because of his prominence on the political scene; however, these cannot be determined as conclusive without further investigation. It remains evident that Oviedo's contribution to Paraguayan democracy is unique, although at times it has been self-serving and brought more wealth into his hands, nonetheless Oviedo will be known by most Paraguayans as the five-feet-tall general who placed the handcuffs on Paraguay's last dictator.
Conor Matthews and Megan Cowell, Research Associates at the Council on Hemispheric Affairs
Please accept this article as a free contribution from COHA, but if re-posting, please afford authorial and institutional attribution. Exclusive rights can be negotiated.
_____________________________
[1] Central Intelligence Agency. The World Factbook. Paraguay. https://www.cia.gov/library/publications/the-world-factbook/geos/pa.html (Accessed 12 February 2013).
[2] Sanie Lopez, and Catherine Shoichet, "Paraguayan presidential candidate killed in helicopter crash," CNN Latin America,   http://edition.cnn.com/2013/02/03/world/americas/paraguay-candidate-death (Accessed February 4, 2013).
[3] Union Nacional de Ciudadanos Eticos, "Estatutos." http://www.unace.org.py/index.php/estatutos (Last modified March 2012). (Accessed 11 February 2013).
[4] Union Nacional de Ciudadanos Eticos, "Estatutos."  (Last modified March 2012). http://www.unace.org.py/index.php/estatutos (Accessed 11 February 2013).
[5] Lino Oviedo. "Lino Oviedo 2013." http://www.lino2013.com.py/. (Accessed February 4, 2013).
[6] Associated Press. "Paraguay investigators try to ID body of presidential hopeful Lino Oviedo after chopper crash." The Washington Post, February 4, 2013.  http://articles.washingtonpost.com/2013-02-04/world/36736857_1_helicopter-crash-chopper-crash-id-body (Accessed 6 February 2013).
[7] "Cerca de concretarse ingreso de Unace a la Alianza." February 11, 2013. http://www.paraguay.com/nacionales/cerca-de-concretarse-ingreso-de-unace-a-la-alianza-91371 (Accessed 11 February 2013).
[8] "Lino Oviedo lanzó 550 motos para su campaña con la ayuda de chinos 'rojos'." 2013. http://www.lanacion.com.py/articulo/69398-lino-oviedo-lanzo-550-motos-para-su-campana-con-la-ayuda-de-chinos-rojos-.html (Accessed 5 February 2013).
[9] "Lino Oviedo lanzó 550 motos para su campaña con la ayuda de chinos 'rojos'." 2013. http://www.lanacion.com.py/articulo/69398-lino-oviedo-lanzo-550-motos-para-su-campana-con-la-ayuda-de-chinos-rojos-.html l (Accessed 5 February 2013).
[10] Kaitlin Funaro. Global Post. "Paraguayan presidential candidate Lino Oviedo killed in helicopter crash." February 3, 2013.  http://www.globalpost.com/dispatch/news/regions/americas/130203/paraguayan-presidential-candidate-lino-oviedo-killed-helicopte (Accessed 11 February 2013).
[11] AFP. The China Post. "Paraguay presidential candidate's death sparks conspiracies." February, 5, 2013. http://www.chinapost.com.tw/international/americas/2013/02/05/369618/Paraguay-presidential.htm. (Accessed 11 February 2013).
[12] Sanie Lopez, and Catherine Shoichet, "Paraguayan presidential candidate killed in helicopter crash," CNN Latin America, http://edition.cnn.com/2013/02/03/world/americas/paraguay-candidate-death/  (Accessed 4 February 2013).
[13] Simon Romero, "Candidate for President of Paraguay Dies in Crash," New York Times: Americas, http://www.nytimes.com/2013/02/04/world/americas/lino-oviedo-candidate-in-paraguay-dies-in-crash.html (Accessed 4 February 2013).
[14] Sanie Lopez, and Catherine Shoichet, "Paraguayan presidential candidate killed in helicopter crash," CNN Latin America, http://edition.cnn.com/2013/02/03/world/americas/paraguay-candidate-death/ (Accessed 4 February 2013).