Leaders Sign Pacific Alliance Agreement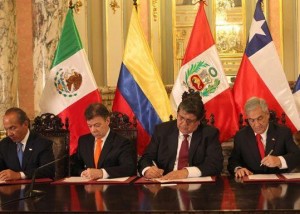 As of Thursday, April 28, Peru, Chile, Colombia and Mexico—four of Latin America's most influential countries in terms of trade—entered into an economic agreement which will advance efforts for "deep integration" among them. The Alianza del Pacífico, or Pacific Alliance, seeks to facilitate the open flow of labor, goods, services and capital among the four nations. The arrangement should benefit all nations, including Panama, should it accept the invitation to join.
The Pacific Alliance is expected to be effective in diffusing the fiscal frustration caused by the United States' stagnating economy. Mexico, as an important U.S. trading partner, has suffered from sending 80% of its exports north to a depreciating dollar. Equally irritated is Colombia, a country who has awaited congressional approval for a bilateral agreement for years. The trade pact seeks to assure that all benefits from working bilateral pacts are imparted upon all state parties. By taking action on the issue, Colombia, Mexico, Chile, Peru and possibly Panama can extend their trading options to up-and-coming Asia. Already, Peru and Chile have agreements in place with China. Furthermore, Mexico, Peru and Chile are members of the Asia Pacific Economic Cooperation, a trade agreement with 21 members. The Alliance may prove a worthy economic adversary to Mercosur, a Brazilian-led trade coalition which includes Argentina, Paraguay and Uruguay. Mercosur has been in place since the nineties but has had few successful advances in trade.
The pact is a "historic step," Peruvian President Alan Garcia said to CNN, regarding what may be his biggest foreign policy project since he assumed office. "We firmly believe that the best way to face the global crisis and assure development, employment and justice is the integration and complementing of our economies and visions for the future."
Written by COHA Research Associate Lindsey Pace