Welcoming the President of Peru: Humala on Obama's Radar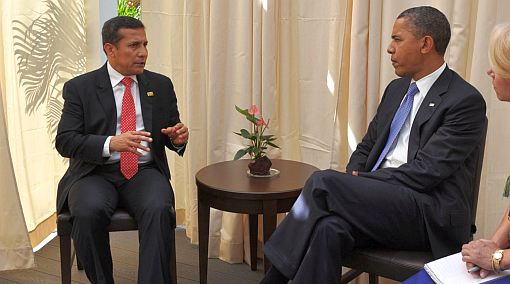 On Tuesday, June 11, Peruvian President Ollanta Humala will make his first official visit to the White House in an effort to establish what Peruvian Ambassador to the United States Harold Forsyth calls a "strategic cooperation partnership" with the United States. In the wake of President Obama's recent trips to Mexico and Costa Rica, as well as right-wing Chilean President Sebastián Piñera's visit to Washington, D.C. last week, Humala's visit continues the disscussion of U.S.-Latin American relations.
In 2011, in a close run-off election against Keiko Fujimori, daughter of the jailed former president Alberto Fujimori, Humala won a narrow victory with a three percent margin. Humala's successful campaign was attributed by many to his ideological shift from the populist left towards the center; today he boasts an approval rating of over 50 percent.
The majority of backing for Humala comes from low-income Peruvians, but these individuals have yet to really feel the benefits from Peru's economic boom. In the last decade, Peru's economy has grown at an average annual rate of 6.33 percent, the most staggering 10-year average growth rate in Peruvian history. Additionally, the Peruvian growth rate from 2002-2012 was the largest of any other country in Latin America and the Caribbean.
Humala has vowed to implement measures of social inclusion while maintaining the country's free market economic model. Under Humala, the Peruvian government has invested in several multi-billion dollar social development programs, such as the expansion of conditional cash transfers. Yet despite such efforts, public expectations that Humala would reduce poverty have been largely disappointed.
Although the population below the poverty line has dropped significantly in the last 10 years, the average rate remains at approximately 30 percent. In rural communities the poverty rate is closer to 55 percent, highlighting the income inequality across different regions.
Another significant failure relates to mining activities. In highland Cajamarca, the Conga mining initiative has gone forward full blast despite concerns over the impact on water resources. This contradicts Humala's campaign promise to protect indigenous communities and their land over investment opportunities.
Humala has attempted to forge closer ties between his centrist and leftist supporters—for example, by appointing both leftist academics and centrist officials to his cabinet—but his government is under constant assault by the opposition. Specifically, Humala is accused of having close ties with Chávez. In fact, during his earlier presidential bid in 2006, Humala ran under the flag of Chavismo, losing in a close race against former President Alan García. The popularity and perceived clout of the left-leaning first Lady Nadine Heredia has not particularly helped Humala's newly forged centrist image.
As a result of his startling shift to the center, Humala is in fact more comparable to Brazil's Lula than to Chávez and has thus shown a willingness to strengthen diplomatic ties with the United States. This has been a strategic move to gain access to its political and economic market as a means of making Peru a more accessible and valuable international partner.
The United States has supported Humala's agendas on social inclusion, economic growth, and domestic security. On March 28, 2012, Deputy Secretary of State Bill Burns and Ambassador Forsyth signed a Political-Military Memorandum of Understanding (MoU), an agreement that strengthened political and military cooperation by stipulating a routine dialogue between the United States and Peru.
Issues on the agenda for the June 11 Washington visit will concern security, defense, drug trafficking, and educational cooperation, as well as negotiations for the Trans-Pacific Partnership, an Asia-Pacific trading bloc that is a key strategy in Obama's desire to build closer connections with Asia. Humala and Obama will discuss cooperation on education, energy, climate change, and science and technology. While he is in the United States, Humala also hopes to establish partnerships with undergraduate and graduate programs at six universities, including the Massachusetts Institute of Technology, to develop learning communities and educational exchange between the two countries. Obama and Humala also hope to sign an MoU designed to foster the development of small business.
This visit further reflects Obama's frenzied effort to have a meaningful stake in the region. As Latin America becomes increasingly international and global strategy warrants the strengthening of regional cooperation, a renewed engagement is crucial for the United States. Washington should forge a relationship with Lima that recognizes its domestic concerns and its fundamental national loyalty, while working towards a shared hemispheric interest. Washington cannot afford to ignore Latin America any longer.
Alyssandra Jaquith and Beatrice Loayza, Research Associates at the Council on Hemispheric Affairs
Please accept this article as a free contribution from COHA, but if re-posting, please afford authorial and institutional attribution. Exclusive rights can be negotiated.
For additional news or analysis on Latin America, please go to: Latin News and Rights Action