Uruguayan Education Strikes Take Off
Massive teacher strikes have erupted in Uruguay, presenting a serious challenge to former guerrilla fighter and current President José Alberto "Pepe" Mujica Cordano. Mujica came to office in 2010 promising a new era of progressive reform. He has taken several bold progressive positions, including those on social issues such as marijuana legalization, gay marriage, and legalized abortion. However, protesting teachers are now pushing Mujica farther than he really cares to go, as recent events in Uruguay are making clear.
The Education Workers' Protests
Although the Uruguayan education system is considered one of the most advanced in Latin America, workers in this sector continue to receive remarkably low salaries. This has fueled rising levels of frustration among teaching personnel and the trade unions that back them up. At the end of May, the Secondary School Teachers Union (Asociación de Docentes de Educación Secundaria; ADES) announced strikes in the education sector beginning on June 20. At the time of the announcement, there were no indicators that these strikes would have a particularly large impact on Uruguayan society. However, what started as a local issue involving a few secondary schools was soon transformed into a national news story.
The Union demanded a substantial salary increase for its members, calling for a teachers' raise from their $14,000 USD annual pay to $25,000 USD. [1] As the protest gathered momentum, workers occupied secondary schools around the country, and then expanded their occupation to include colleges and universities. 
Mujica's Response
On June 24, the Mujica Administration issued a press communiqué expressing its deep concern over the "radical" nature of the reasoning behind the education protests. The executive branch stated that it could not give in to the teachers' demands, as doing so would jeopardize the country's entire economy, provoking inflation and creating a deficit. The government claimed that the protests and occupations were irresponsibly damaging the public's educational rights by interrupting classroom instruction. The government then called for an immediate end to the occupations and a return to work by all protesting teachers.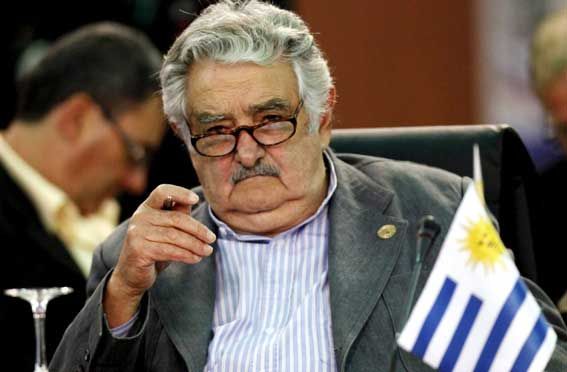 On June 27, President Mujica extended his view, complaining that education workers and the unions they headed were showing a personalized level of ill will against his administration. [2] While Mujica reassured workers that he would listen to their concerns, he noted that he would not be making any promises he could not keep.
Several unions have been involved in the struggle, but at the head has been the Plenary Workers' Inter-Union – National Convention of Workers (Plenario Intersindical de Trabajadores – Convención Nacional de Trabajadores; PIT-CNT). As the only labor union federation in Uruguay, the PIT-CNT is the most important interlocutor for workers to the government. On June 28, the Mujica government called in union leaders Fernando Pereira and Marcelo Abdala, who pressed the government to set aside $10 million USD for teacher salaries. [3]
But while these meetings were being carried on, protests continued all over the country, culminating in a large march that afternoon in the center of Montevideo. On June 30, Uruguayan Minister of Economy and Finance Fernando Lorenzo delivered the government Accountability Act (Rendición de Cuentas) to Vice President Danilo Astori. This document increased the 2014 budget by an additional $1.4 billion USD of which $950 million USD was earmarked for a 3 percent hike in the wages of all workers in the National Public Education Administration (Administración Nacional de Educación Pública; ANEP). [4] The Accountability Act is currently under Parliamentary consideration.
The presentation of that measure has not been enough to halt the protests, however, and, as meetings between the government and unions continue, workers are insisting that the government fully fund their wage demands. Furthermore, the protestors want the government to include in the Accountability Act steps addressing the wage needs of university workers, highlighting that Mujica's administration has in effect ignored this category. Taking into consideration all of these factors, the result of this controversy with unions could have an impact on President Mujica and especially on the future of his party, Frente Amplio, as elections loom next year.
Filippo Ponz de Leon, Research Associate at the Council on Hemispheric Affairs
Please accept this article as a free contribution from COHA, but if re-posting, please afford authorial and institutional attribution. Exclusive rights can be negotiated.
For additional news and analysis on Latin America, please go to: LatinNews.com and Rights Action
References
 [1] Pablo Melgar "Los Liceos de Montevideo Estarán un Mes Sin Clases por Huelga y Vacaciones," El Pais, 30 May 2013, Accessed 3 July 2013, http://www.elpais.com.uy/tag/huelga%20en%20la%20educacion/4
[2] "Mujica Reclamó que 'Se Está Dudando de la Buena Fe del Gobierno,'" El Pais,  27 June 2013, Accessed 3 July 2013, http://www.elpais.com.uy/informacion/mujica-rendicion-cuentas-educacion-audicion.html
[3] "Pit-Cnt Pidió al Ejecutivo US$ 10 Millones para la Universidad," El Pais, 28 June 2013, Accessed 3 July 2013, http://www.elpais.com.uy/informacion/conclave-ejecutivo-pit-huelga-educacion.html
[4] "Rendición: $ 1.438 Millones Adicionales," El Pais, 1 July 2013, Accessed 3 July, 2013,  http://www.elpais.com.uy/informacion/rendicion-millones-adicionales.html