Immigration Reform: A Political Strategy That Lacks Humanity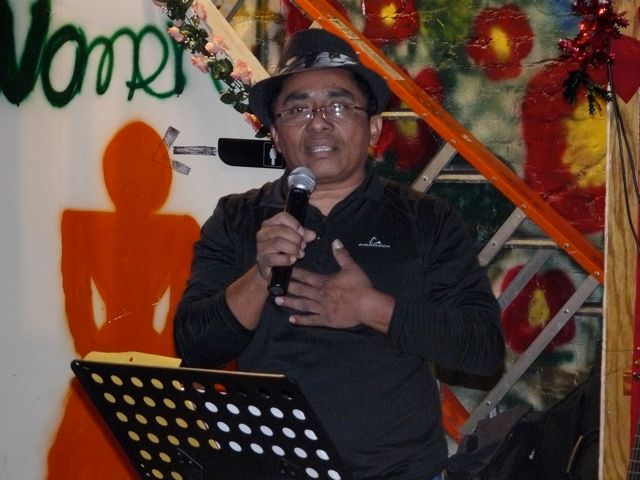 This is the English version of the original article, first published in Spanish in MetroLatino USA.
COHA Research on Immigration is an analysis of the immigration-related measures being intermittently issued by the Council on Hemispheric Affairs.
It is clear that the future of immigration reform depends on the approval of the Republican majority in the House of Representatives. Due to the growing political significance of the Latino community in recent elections, the Republican Party will not be able to gain control of the White House in 2016 unless it gets behind the immigration reform bill (S.744).
Every day, the media discusses the future of this bill and questions whether Republicans will support their colleagues from the bipartisan group of senators that wrote the S.744 bill, the gang of eight. The dominant narrative, however, fails to observe that the immigration reform is not just about politics, but more importantly it is about people's lives. It is not only a matter of Democrats versus Republicans. Immigration reform is concerned with those who for years have contributed their labor to the U.S. economy, yet the reform proposal lacks the tools to protect those who are vulnerable and live in the shadows of the system.
President Barack Obama has declared that the immigration system is broken; but the reform proposal will not solve the problem as long as racism and human rights abuses are allowed to prevail in the 21st century. These are the main obstacles that keep the immigration reform from being "comprehensive".
The immigration reform bill that is currently being debated in the Senate aims to strengthen border security and provide a path to citizenship for 11 million undocumented immigrants who currently live in the United States. However, the biggest vulnerability is that as long as the bill is not approved, the 11 million will continue to be subject to deportation.
Despite the fact that the Obama Administration supports a comprehensive immigration reform that regularizes the status of some undocumented people, it simultaneously has the biggest deportation record of all time, with more than 400,000 people deported last year. [1] Although the initiative is good, the bill unfortunately fails to address the topic of deportations, a grave matter due to the fact that approximately 1,100 people are deported daily. [2] Many of these individuals have lived in the United States for years, some of them with children that are citizens and whose lives are intertwined with this country.
During an interview for this investigation, Francisco Pacheco, East Coast Coordinator of the National Day Laborer Organizing Network (NDLON), stated that among the main problems that have been observed in the migrant communities, the topic of deportation is one of the most serious. Pacheco argues that,
"Here in the United States there is a large group of anti-immigrant people, in the Tea Party, in the Republican Party and even among Democrats. These are groups that work together on the erosion of the image of the immigrants, searching to create exclusion and fear in the community by criminalizing them. This aims to promote the deportations, the closing of legal spaces and the violation of labor rights."[3]
Private Prisons: The Business of Dehumanization
The issue of deportations goes beyond the anti-immigrant sentiment because, contrary to popular belief, being deported does not consist of capturing an undocumented immigrant and putting him or her on a bus to his or her native country. The detention of migrants is a billion dollar industry in which immigrants are exchanged like products, a lucrative business whose earnings are estimated to be about $5 billion annually. [4] Companies like Corrections Corporation America (CCA) and GEO Group Management & Training Corp are leaders in the business of human imprisonment by owning more than 200 prisons in the United States.  Francisco Pacheco comments on this subject:
"They [private prisons] are a booming business whereby the government, instead of using federal jails, contracts with these private prisons to put people of ethnicity behind bars, paying around $150 per person a day… These people do not get deported immediately and some of them may be detained for up  to four years.,. Most of those arrested are just workers and only 10 percent of them have been shown to have criminal records."
Private prisons work with logistics similar to those of a hotel: the more occupants they have, the more money they make. These private prisons support themselves on anti-immigrant laws like Arizona SB1070 to keep their prisons full. This law criminalizes immigrants and categorizes them as suspects based on their physical appearances, regardless of whether or not they have their documents in order. Thomas Beasley, CCA founder and former leader of the Tennessee Republican Party admitted to his own immigrant sale industry, "You sell them like cars, or real estate, or hamburgers." [5]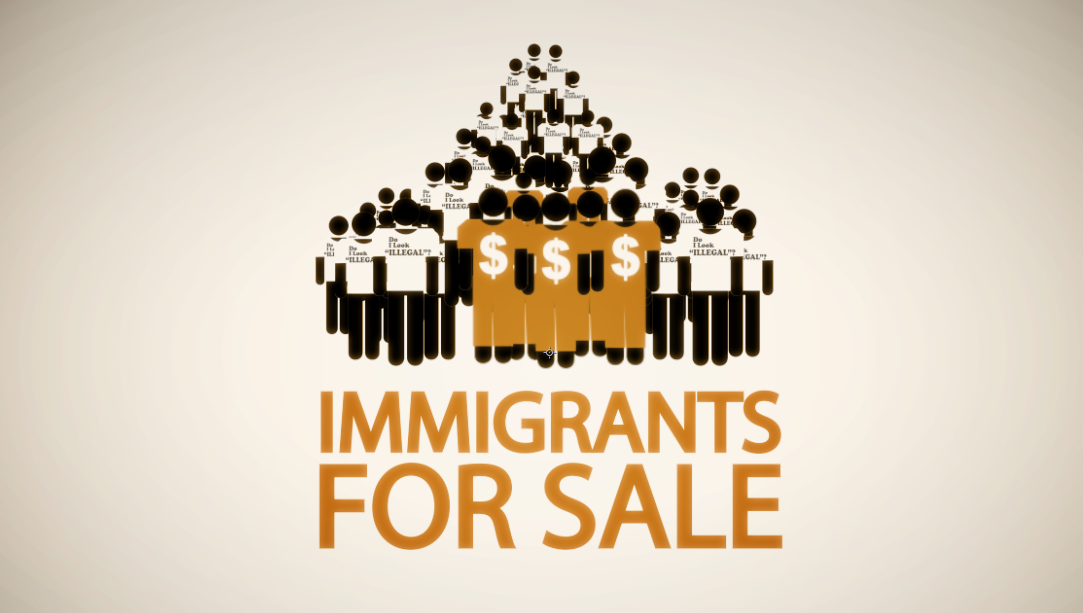 These prisons stay active with the help of groups like the American Legislative Council (ALEC), an extreme right-wing organization composed of a group of State legislators, and powerful multinational corporations (including CCA), which constitute the most active lobbying group in favor of private prisons. Together, ALEC, CCA and Russell Pearce (R), former Senator of Arizona, wrote the legislation that became SB1070. [6] In contrast to prisoners detained in state prisons, those who are kept in private prisons do not know when they will be released and days, months or even years could go by before the prisoner is deported. With more than 400,000 undocumented immigrants held in jail each year, this business is a money machine. Unfortunately, even if Obama's immigration reform plan is approved, it will not be enough to stop these practices. One of the priorities of the initiative is the strengthening of border security, which the government will safeguard by capturing a projected 90 percent of the individuals who enter the country. [7] Thus, while the objective is ostensibly to stop people from entering the United States, it is also a money maker for the prison industry.
An "Exclusive" Reform
Among the more than 300 amendments proposed in the Judiciary Committee for immigration reform, one of them refuses to include homosexuals in the path towards citizenship. According to CNN Latino, Senator Marco Rubio (R-Fl) repeatedly commented that homosexuals should not be included in the reform because it is already a very difficult topic itself. [8] Pacheco argued that not only homosexuals will be affected by the amendments, but also those who do not have a permanent job. People such as day laborers, domestic workers, and employees of small businesses are at high risk of being excluded.
Regarding the subject of exclusion, during an interview with Fox News on May 8, Rubio clarified that applicants will not qualify for federal benefits during the course of 10-13 years of the process, but only after five years of having obtained the green card. [9] In other words, if applicants qualify, they will not have access to federal benefits for at least 20 years following the beginning of the process.
Anti-reform groups argue that they will never accept the regularization of an undocumented immigrant nor a path to citizenship for those who entered the country unlawfully. Nevertheless, for many years these people have worked extremely hard, mostly getting paid low wages and working in poor conditions. Pacheco states that:
"It is not fair that people who entered the country without papers, who have contributed greatly to the country in construction, in the gardens, in the Pentagon itself, not to have any recognition whatsoever. Around 99 percent of those who worked in the construction of the Pentagon were undocumented immigrants, but it is precisely these people who are the ones being left out. A reform should be inclusive and cover the 11 million [people] everybody has been talking about; it has to respect labor rights. Also, many people have been paying taxes through the ITIN Number, and their taxes are not being returned. Millions are not getting any benefit from their taxes."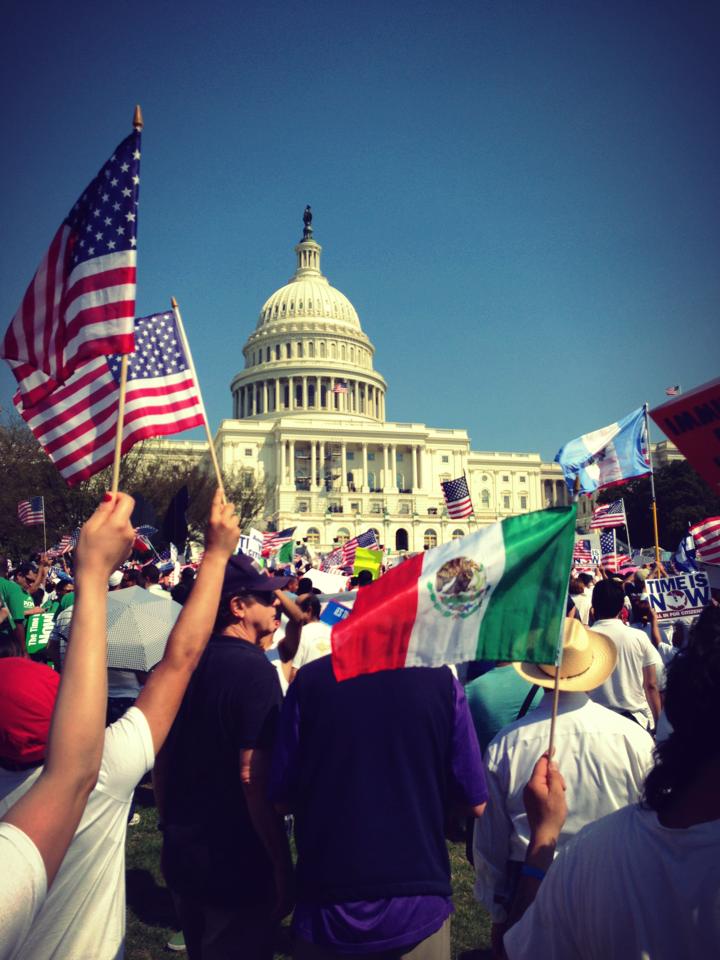 From: "Demos" To: "Politicus":  A Request From the People on Immigration Reform
On June 11, the U.S. Senate voted 82-15 in favor of the motion to begin the debate on the immigration reform. [10] In the following weeks, the 867 page document will continue to be debated and amended. [11] With regards to his expectations and predictions about the upcoming debates, Francisco Pacheco says:
"Republicans are interested in the Latino vote, therefore, they will try to push the bill, yet we believe that when it goes to the House, things will get complicated. All we can hope is that everything that has been done until now is not ruined…The future is uncertain, but we believe that things can be achieved as long as the community keeps fighting."
Pacheco argues that in the past, the migrant community has been divided between accepting what the government has to offer and fighting until the end for what is needed in the community.
"Obama has a chance to choose how he wants people to remember him, as the president who broke records in deportations, or as someone who actually did something for the community."
This is a call, not only to the Obama administration, but also to the Mexican government and other Latin American countries whose citizens migrate to the United States in search for a better life. It is time to address a joint geopolitical responsibility. People cannot keep dying in the desert or being forgotten in the shadows of the North American system. The reform is not about rewarding people for entering the country illegally; it should be about providing a human treatment to those who have worked hard and benefited this country. People seek the recognition of their human rights through this law, and from a moral point of view, the voices of even those who are not citizens still count.
Pamela F. Izaguirre, Research Associate at the Council on Hemispheric Affairs
Please accept this article as a free contribution from COHA, but if re-posting, please afford authorial and institutional attribution. Exclusive rights can be negotiated.
For additional news and analysis on Latin America, please go to: LatinNews.com and Rights Action
References:
[1] Schlanger, Danielle. "Immigration Reform Supporters Call To Halt Deportations." The Huffington Post, sec. Politics, June 12, 2013. http://www.huffingtonpost.com/2013/06/12/immigration-reform-deportations_n_3429842.html (accessed June 14, 2013).
[2] Ibid.
[3] Pacheco, Francisco, entrevista de Pamela Izaguirre. Coordinador Costa Este Red Nacional de Jornaleros y Jornaleras (6 de junio de 2013).
[4] Immigrants for Sale. Dirigido por My Cuetname Productions. Interpretado por Brave Foundation. 2013.
[5] Ibid.
[6] Ibid.
[7] Comunicarteusa, "Ganancia de las cárceles privadas en reforma migratoria.." Last modified May 20, 2013. Accessed June 13, 2013. http://comunicarteusa.com/informate/opinion-/244-ganancia-de-las-carceles-privadas-en-reforma-migratoria.
[8] CNN. CNN Latino. 13 de junio de 2013. 8. http://cnnespanol.cnn.com/2013/06/13/marco-rubio-dice-que-incluir-derechos-homosexuales-mataria-el-proyecto-de-reforma-inmigratoria/ (último acceso: 13 de junio de 2013).
[9] Angle, Jim. Fox News. 6 de mayo de 2013. http://www.foxnews.com/politics/2013/05/08/lawmakers-split-on-access-to-benefits-for-illegal-immigrants-in-senate-bill/#ixzz2WFDgp77q (último acceso: 13 de junio de 2013).
[10] Publimetro, "El Senado aprueba iniciar el debate formal de la reforma migratoria." Last modified Junio 11, 2013. Accessed June 12, 2013. http://www.publimetro.com.mx/noticias/el-senado-inicia-el-debate-formal-de-la-reforma-migratoria/emfk!2059542/.
[11] " Detalles de la reforma migratoria." Univision, , sec. reforma-migratoria, Mayo 22, 2013. http://noticias.univision.com/inmigracion/reforma-migratoria/article/2013-05-22/detalles-de-la-reforma-migratoria