Sowing the Seeds of Property Discontent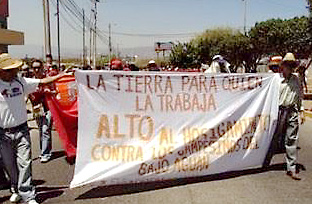 Agrarian reform has taken centre stage in Honduras recently.  After the ousting of President Manuel Zelaya in June of 2009, rural farmers have illegally occupied land owned by Dinant Corporation. Miguel Facussé, owner and operator of the Dinant Corporation, is the largest landowner in the region. Dinant has posted losses of over USD 20 million, blaming the decrease in profit on farmers' exploitation of Dinant-owned lands. Inequalities in property ownership and lack of agrarian reform have been two crucial causes of the widespread socioeconomic imbalance in Honduras, prompting many rural farmers to call for redistribution of land and newer, fairer policies.
Although the Honduran government has guaranteed 15-year loans to an estimated 4,000 agrarian families, it has done little to equalize the social and economic divides within Honduras.  Only recently has the movement turned violent, as both sides have polarized their positions on the land ownership and redistribution issue.  Such polarization has spelled disaster for Honduras with more than forty rural farmers, two farmworker leaders, four Dinant security guards, and one Dinant employee killed since negotiations started last year.  As accusations of foul play on both sides continue to mount, neither seems open to compromise, dashing any hopes of ending the conflict.  Honduras faces hard choices and there is no doubt strong government intervention is required to reach a peaceful solution, and avoid an extended conflict and more loss of life.