Re: "Timerman rechazó sumar a los kelpers a la reunión con Gran Bretaña"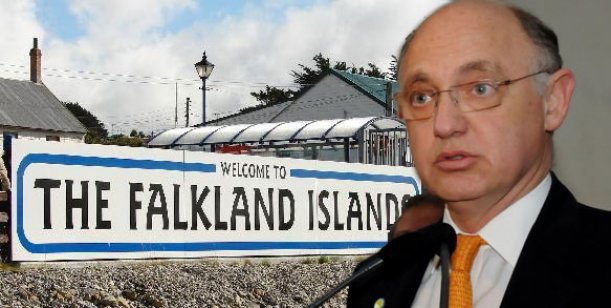 Dear Editor,
In your January 31 article titled "Timerman rechazó sumar a los kelpers a la reunión con Gran Bretaña," it becomes obvious that, speaking on behalf of President Cristina Fernández de Kirchner, Foreign Minister Héctor Timerman means to promote an Argentine version of what appears to be an inappropriate pro-colonialist policy. At the same time, he views himself as holding at bay a Napoleonic-era anti-imperialist mob scene. By verifiably excluding the Kelpers (Falklands/Malvinas residents) from any open discussion with the United Kingdom, he may be endangering the future health of his country's international and regional relations, by permanently estranging his nation from the long-term good will of the aforementioned islanders, as well as the good will of much of the rest of the region.
The Falklanders already have a good deal of investment in any resolution of their sovereignty issue. The prevailing public opinion regarding the island repeatedly has manifested itself behind the proposition that native Falklanders could be persuaded to voluntarily or involuntarily remove themselves from the island, although this is by no means the official position of the Argentine government.
Furthermore, the participation of the Kelpers was never meant to influence any negotiations nor display any disrespect that could undermine the Argentine administration. Their role was to ensure that a notion of sovereignty would guarantee that the islanders should be in a position to permanently safeguard their own legitimate interests, well being and individual rights.
In order to assure the equal status of all parties to the dispute, either the U.K. or Argentina should submit a formal request to the United Nations for the participation of an unaffiliated third-party mediator. Without a mediator, it is highly unlikely that a resolution to the island dispute will be soon achieved, since pride will provide a third rail to any negotiations with the Argentines. This is a stance that Buenos Aires must come to terms with. This is a fact of life to any final resolution that can be reached to any access to an already gritty situation. Also, Argentine diplomats must realize that time is running out on them since most Latin American countries are not prepared to sacrifice pride for questionable economic benefits just to back Buenos Aires in what could be already its overreaching diplomatic arguments.
Sincerely,
Kimberly Bullard, Research Associate at the Council on the Hemispheric Affairs
In response to La Nación: Timerman rechazó sumar a los kelpers a la reunión con Gran Bretaña
Please accept this article as a free contribution from COHA, but if re-posting, please afford authorial and institutional attribution. Exclusive rights can be negotiated.
For additional news/analysis on Latin America, please go to LatinNews.com.