Re: EEUU admite "Problemas menores" en consulado de Venezuela (EEUU admits "minor problems" on venezuelan consulate)
Venezuela is known on the international scene for unleashing a policy aim at developing a different model of judging Washington's worldwide role. We Venezuelans living recently in the U.S  tend to see U.S – Venezuelan bilateral ties as always being in a state of near rupture. But, just as The White House can't denyVenezuela's importance in Latin America, likewise, Venezuela can't deny the awesome power of its Northern foe.While doubts still linger over the reasons for the Consul General's expulsion (at least from the Venezuelan side), Mark Toner, Deputy Spokesperson for the Department of State, said the decision was taken in accordance with Article 23 of the Vienna Convention on consular relations but weakened moral case by declining to produce any evidence.
 While Vienna certainly gives Washington the plenary authority to expel any resident diplomat at will the question is whether the U.S was wise to expel Livia Acosta. Here all the wisdom may not necessarily be Washington's corner.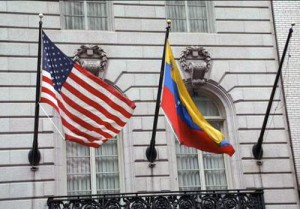 Venezuela es conocida en la escena internacional  por desencadenar una política que juzga el rol de Washington mundialmente. Nosotros, los venezolanos, que se han mudado recientemente a  los Estados Unidos, vemos las relaciones bilaterales entre EEUU – Venezuela en estado de ruptura; mas, así como la Casa Blanca no puede negar la importancia de Venezuela en Latinoamérica, Venezuela no puede negar el gran poder de su enemigo americano.
Cuando aún existen dudas sobre la  verdadera razón por la expulsión de la Cónsul General (al menos de la parte venezolana), Mark Torner, portavoz para el Departamento de Estado, explico que la decisión estaba basada en el artículo 23 en la Convención de Viena en cuanto a las relaciones consulares.
Aun cuando Viena le otorga a Washington plena autoridad para expulsar algún diplomático residente, a discreción, la pregunta que queda remanente es  si el gobierno estadounidense fue sabio o no con su decisión sobre Livia Acosta. Aquí, toda la sabiduría no solo puede ser necesaria en la esquina de Washington.