Re: "Detrás del registro electoral"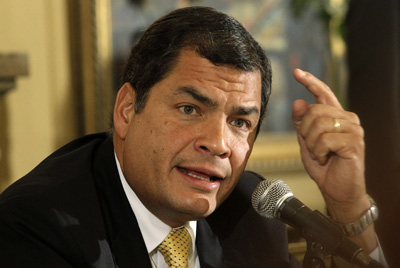 Dear Editor,
Your October 17 article, "Behind the Electoral Register," reflects an issue of great importance for the upcoming elections in Ecuador, as well as for the country's political future. However, it also suggests that internal rifts in the country's political parties will ultimately affect the overall quality of governance. Objectives that affect transparency can be expedited through the degree of internal democratization that is achieved in each constitutional party or movement. Furthermore, on occasion, achievements are best avoided by unilateral decisions between leaders of the respective partisan camps. However, achieving a balance will ultimately require a degree of political and ideological education of party members.
The political scandals affecting parties and movements during the electoral inscriptions will point to "old inherited practices" that have helped affect the integrity of electoral processes in the past. This lack of confidence has, in turn, led to the lack of political involvement being experienced. This educational process must be synchronized so that it follows concrete statutory laws that will ultimately prevent these corrupt electoral practices from being absorbed by the affected institutions. Rumors of failed expectations must be evaluated and corrected with a new process that promotes representing a meritocracy, especially when they remain under a political mantle affecting primaries, conventions, or the election methodology for candidates before they are officially announced. Most importantly, the parties' objectives must go beyond achieving political gain. Rather than simply concentrating on internal political objectives and their public image, the parties must focus on a process of genuine change that allows for the maintenance of a high-quality level of participation.
Initiated political change in Ecuador appears to have promoted greater participation of its citizens in the local political process. However, the issue demands greater analysis, not only inside political movements and parties, but also inside of the country's institutions. This change will be vital to make a genuine transformation from accepted meritocracy into equal participation and representation that eventually will abolish old practices that have been characterized as "last minute" and lack depth and insight.
Sincerely,
Simon Palacios, Research Associate at the Council on Hemispheric Affairs
In response to: Detrás del registro electoral
Please accept this article as a free contribution from COHA, but if re-posting, please afford authorial and institutional attribution. Exclusive rights can be negotiated.