Ocupação de terras pede justiça para trabalhadores rurais (with English translation)
No último 9 de julho, a fazenda Itacaiúnas no estado do Pará foi cena dos protestos de mais de 400 integrantes da Federação dos Trabalhadores da Agricultura (Fetagri). De acordo com o relatório de Alex Rodrigues da Agência Brasil, o secretário geral da Fetagri do Pará, Francisco de Assis Soledade, confirmou que a ocupação das terras foi coordenada pelo Sindicato dos Trabalhadores Rurais de Marabá.(1) Os acontecimentos geraram polêmica entre os proprietários da fazenda e os protestantes.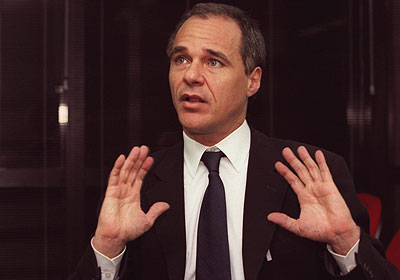 Fatos semelhantes à ocupação de Itacaiúnas são comuns no Brasil. Inicialmente, a maioria das reinvindicações dos trabalhadores rurais estão relacionadas à desapropriação das terras, o objetivo sendo a implementação duma verdadeira reforma agrária, notadamente trás várias mudanças das leis referentes ao assunto.(2) Fazendas como Itacaiúnas, propriedade da empresa de assessoria Grupo Opportunity através da empreendedora Agropecuária Santa Bárbara Xinguara, possuem um passado longo e duvidoso de distribuição desigual de terra entre os trabalhadores rurais.  De acordo com um relatório da repeitado ONG Global Exchange sobre os direitos humanos, estas fazendas têm sido palco de milhares de assassinatos nos últimos dez anos, motivados pelos conflitos envolvendo a disputa de terras.(3)
Este caso em concreto envolve  vários fatores importantes.  Primeiro, a fazenda de Itacaiúnas está ligada ao criticado banqueiro Daniel Dantas, um dos maiores acionistas do Grupo Opportunity.  Na sua longa carreira, Dantas foi acusado de múltiplos crimes administrativos, incluindo "lavagem de dinheiro, gestão fraudulenta e temerária de instituição financeira, evasão de divisas e formação de quadrilha"(4) Apesar de suas transgressões, o banqueiro permanece impune e até seu nome foi retirado da lista de corruptos realizada pelo Banco Mundial e pela ONU.(5)
Além disso, deve-se considerar a relação entre o movimento de trabalhadores rurais e o Instituto Nacional de Colonização e Reforma Agrária (Incra).  Oficialmente, a agenda do Incra é clara.  O instituto tem como seu principal foco a reforma agrária e o assentamento  de terras rurais. O Incra tem desempenhado um papel importante de protetor das terras indígenas e quilombolas. Mas mesmo assim, algumas falhas persistem e o Instituto tem dificuldades para respeitar os prazos marcados. O Secretário Geral Soledade falou do Incra à Agência Brasil dizendo de maneira alterada, "As famílias estão esperando há mais de um ano que o Incra cumpra o compromisso assumido pelo seu presidente… que até julho de 2011, a fazenda [Itacaiúnas] seria desapropriada e um projeto de assentamento instalado."(6) Ainda que as promessas do Incra entraram em vigor, até então em 2012 a população não viu nenhuma mudança.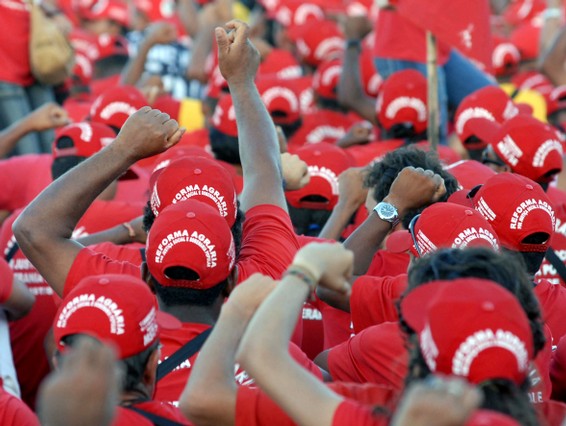 Consequentemente, a ocupação desse território de 10 hectares faz surgir perguntas sobre a justificação de movimentos análogos. O povo brasileiro vem demostrando muita indignação contra a posição das autoridades sobre as invasões de terra com comentários agressivos em páginas de jornais na internet. Muitos consideram que a carreira do banqueiro Dantas e seus atos corruptos ainda impunes são umas das justificativas principais à ocupação das terras. Tais acontecimentos podem parecer razoáveis numa sociedade como a brasileira, tão marcada pela corrupção e que recentemente está aumentando os esforços contra a má administração. Para os críticos estrangeiros, esta justificação lembra o legendário Robin Hood, o famoso ladrão que roubava dos outros ladrões para recompensar os pobres. Continuando essa análise, os crimes que representam a ocupação de terras e as ameaças dos protestantes de destruir propriedades privadas tornam-se menores comparados aos atos corruptos e impunes de empresários milionários.
Embora a ocupação de terras seja ilegal, os protestantes expressam frustração frente aos sistemas desiguais que reinam no pais. Procurando seus direitos como cidadãos, o teoricamente responsivo sistema democrático não consegue satisfazer eficazmente na prática os desejos do seu povo. Porém, a maneira ortodoxa do voto e da legislação torna-se um processo muito longo. No caso de Itacaiúnas, os integrantes da Fetagri entenderam que eles tinham que adotar medidas drásticas para pressionar ao governo e ao Incra. Assim, a marginalização das populações rurais e a desigualdade flagrante geradas pela má distribuição de terras no interior do país alcançaram um ponto limite na tarde de 9 de Julho.
Finalmente, para resolver o conflito em Itacaiúnas, os proprietários contactaram à polícia. Mas a luta contra as injustiças cometidas pelos latifundiários ainda não acabou. O Movimento de Trabalhadores Sem-Terra (MST), o qual tem como missão defender aos trabalhadores rurais contra os avanços de empresas e latifundiários, apoia eficazmente esta causa. No entanto, torna-se completamente indispensável o apoio do Estado a estas populações para assim assegurar o efetivo cumprimento da devida justiça, o igual direito de acesso às terras improdutivas e a distribuição equitativa da terra que a Constituição brasileira de 1988 garante.  Sem resposta às suas demandas, os protestantes vão certamente continuar ocupando terras e avançando a sua causa para obter a igualdade na distribuição de terra.
English Translation:
This past June 9, the Itacaiúnas farm in Pará, BR was the scene of massive protests, as more than 400 members of the Federation of Agricultural Workers (Fetagri) occupied the lands comprising this property.  According to Alex Rodrigues, a journalist with Agência Brasil, the Secretary-General of Fetagri Francisco de Assis Soledade has confirmed that the Union of Rural Workers of Marabá organized an occupation, stemming from rising tensions between landowners and local rural workers.(1)
Events such as these are becoming increasingly commonplace in Brazil.  Generally speaking, protesters most often demand the expropriation of large corporate-owned farms within their communities with the intention of enacting programs of land reform and resettlement processes.(2)  Properties such as Itacaiúnas undoubtedly reflect centuries of inequality for rural populations, especially with regards to land distribution in Brazil, and have consequently seen a spike in violence.  According Global Exchange, an California-based international NGO advocating basic human rights, similarly expansive properties have been the site of more than one thousand murders within the last ten years.(3)
Many influential factors differentiate this case as more extreme in nature, especially when compared to earlier instances of violence and discord within Brazil's interior.  It is important to note that Agropecuária Santa Bárbara Xinguara, an entrepreneurial firm, owns the properties comprising Itacaiúnas, which also have ties to Grupo Opportunity, a well-off financial consulting firm.  Thus, Itacaiúnas is connected to Daniel Dantas, one of the major shareholders of Grupo Opportunity.  Throughout his long career as a banker, Dantas has been accused of a series of administrative crimes, including "money laundering, management fraud, reckless handling of financial institutions, tax evasion, and conspiracy."(4) Despite these accusations, however, Dantas proceeds with impunity and has even had his name removed from a list of corrupt officials in Latin America compiled by the World Bank and United Nations.(5)
Furthermore, the relationship between the rural workers' movement and the National Institute of Colonization and Agrarian Reform (Incra) should be considered.  Officially, Incra's agenda is rather simple; it focuses on agrarian reform and settlement on rural lands.  The institute has also undertaken the role of protector, especially with regard to the local indigenous and quilombola populations.  However, Incra may not be without its faults.  Soledade spoke about Incra to Agencia Brasil: "Families have been waiting a year for Incra to comply with its president's promises…that by July 2011 the farm would be expropriated and a settlement project installed."(6) As of today, this seems to be little more than an empty promise.
The occupation of these 10 hectares of farmland has raised crucial questions regarding the justification of the protestors' actions.  Comments posted on the official sites of several Brazilian papers do well in demonstrating public opinion surrounding the events of July 9.  For many, the occupation of Itacaiúnas is justified due to the rampant injustice and corruption characteristic of Dantas' career.   Sentiments such as these can be expected in a society blighted by so much corruption, as the state has failed to enact measures to remedy several of its most rampant quandaries.  For many foreign observers, these opinions may call to mind the age-old tale of Robin Hood, the fabled swindler who stole from other thieves to aid the poor.  Rural protestors' occupation of these territories, as well as their subsequent threats to destroy private property, are undoubtedly criminal acts.  However, many members of Brazil's upper class involved in these cases boast criminal records that surely render the workers' actions condign.
The events of July 9 also demonstrate the democratic rights of the Brazilian people.  Although the occupation of the farm was found to be illegal, the protestors were expressing their frustrations with the systemic inequalities.  More than a year has passed since the president of Incra promised to respond to the pleas of Fetagri's members; lamentably, the institute has yet to fulfill its duties.  To this end, members of Fetagri understood that they had to adopt drastic measures to pressure the government and Incra.  An inherent strength of democratic systems lies in their propensity to respond to the wishes of their constituents.  The avenue by which citizens express their concerns, however, is not necessarily fixed; typically, an orthodox approach would be to enact changes through the power of the vote — a woefully tedious process.  Concerning Itacaiúnas, the marginalization of rural populations and the blatant inequality within the interior of Brazil reached its tipping point that afternoon.
Landowners contacted local authorities to resolve the conflict and remove protestors from their properties. However, the struggle for landless workers' rights continues.  The Landless Workers' Movement and its mission to defend rural workers against the abuses of large corporations and powerful landed elites capture the cause of this campaign well.  Rural populations are in dire need of government support to ensure that justice is served, that rights to access unproductive lands are met, and that equitable land distribution is enforced according to the guarantees of the 1988 Constitution.  Otherwise, onlookers can very well expect more political action on the behalf of rural workers against Brazil's corporate landowners and landed elite.
Please accept this article as a free contribution from COHA, but if re-posting, please afford authorial and institutional attribution.
Exclusive rights can be negotiated.
Citations:
[1] Rodrigues, Alex. "Trabalhadores ocupam fazenda paraense ligada a grupo do banqueiro Daniel Dantas." Agência Brasil. Edited by Nádia Franco. July 10, 2012. http://agenciabrasil.ebc.com.br/noticia/2012-07-10/trabalhadores-ocupam-fazenda-paraense-ligada-grupo-do-banqueiro-daniel-dantas (accessed July 24, 2012).
[2] Ribeiro, Paulo Silvino. "O MST no Brasil." Brasil Escola. http://www.brasilescola.com/sociologia/mst.htm. (accessed July 24, 2012).
[3] Global Exchange . "Movimento dos Trabalhadores Rurais Sem Terra (MST)." Global Exchange. http://www.globalexchange.org/country/brazil/MST (accessed July 24, 2012).
[4] D'Agostino, Rosanne. "Justiça recebe denúncia e torna réus Daniel Dantas e mais 13 investigados na Satiagraha." UOL Notícias. July 20, 2009. http://noticias.uol.com.br/politica/2009/07/20/ult5773u1771.jhtm (accessed July 24, 2012).
[5] Agência O Globo. "Daniel Dantas protesta e tem nome retirado de lista de corruptos de Banco Mundial e ONU." Yahoo! Notícias: Brasil. July 19, 2012. http://br.noticias.yahoo.com/daniel-dantas-protesta-tem-nome-retirado-lista-corruptos-191550437.html (accessed July 24, 2012).
[6] Rodrigues, Alex. "Trabalhadores ocupam fazenda paraense ligada a grupo do banqueiro Daniel Dantas." Agência Brasil. Edited by Nádia Franco. July 10, 2012. http://agenciabrasil.ebc.com.br/noticia/2012-07-10/trabalhadores-ocupam-fazenda-paraense-ligada-grupo-do-banqueiro-daniel-dantas (accessed July 24, 2012).