Mexico Shock: Gunmen Dispose of Thirty-Five Bodies in Two Trucks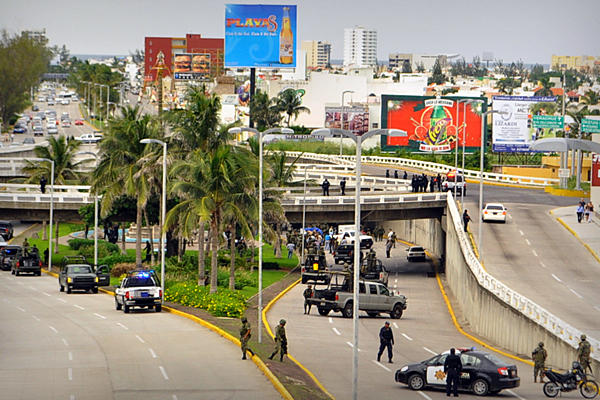 Veracruz, a city on the coast of the Gulf of Mexico, experienced a horror like no other yesterday evening, September 21, when two abandoned trucks containing thirty-five bodies were found dumped  beneath an overpass in Boca del Río. According to witnesses of this horrific scene, gunmen blocked off the area by pointing their weapons at the alarmed motorists and other bystanders. Twitter posts from onlookers warned the Mexican public to avoid Manuel Ávila Camacho Boulevard where the gunmen, wearing what appeared to be military uniforms, dictated the frightening episode during rush hour.
According to Veracruz Attorney General Reynaldo Escobar, of the thirty-five corpses, twelve of whom were women, seven have been identified as individuals that had criminal records involving organized crime such as "kidnapping, extortion, [and] homicide." He further lamented that the city has "never seen a situation like this before."
The local media in Veracruz reported that the cadavers were found with their hands tied, and showed other signs of torture. It is believed that the incident is yet another example of the drug-related gang violence that has been spiraling throughout Mexico. Although Veracruz has little experience of such crimes, the infamous Mexican drug cartel, Los Zetas, are suspected to have been behind the killings, as they have been struggling to keep local drug smuggling routes out of the hands of rival gangs.
This shocking event provides yet another example of the drug violence that has persisted in Mexico since 2006 following Mexican President Felipe Calderón's declaration of war against the local drug lords. Drug cartels continue to fight each other for territory in order to increase and expand their illegal industry that thrives from business with other Latin American countries, as well as the United States.