Italian Ambassador to OAS Visits COHA: Rome Probes a Possible Return to Once Familiar Territory
Although barely discernible, Italy's paw print is becoming increasingly pronounced in the Western Hemisphere, as Rome, somewhat timidly, returns to Latin America. Once driven by colonialism, major issues of concern for Italy today include drugs and crime. On Monday July 8, Sebastiano Fulci, the Italian Ambassador to the Organization of American States (OAS), visited the downtown Washington, D.C. headquarters of the Council on Hemispheric Affairs (COHA) to discuss the nature of Italy's involvement in the OAS and its somewhat limited range of interests throughout Latin America. Ambassador Fulci shared his insights with COHA's research associates regarding the Obama Administration's regional relations and Italian policies towards Washington's hemispheric neighbors, as well as the role of European Union (EU). Fulci cited a number of Italian initiatives for combating organized crime and illegal drug trafficking, as well as its various social justice efforts targeted at tackling the questions of corruption and human rights violations. Fulci particularly emphasized the subject of los desaparecidos in Argentina during this intellectual exchange of ideas and opinions.
Fulci began his discussion by explaining why Italy joined the OAS as an observer. Although other OAS members with observer status, like France and Spain, have stronger linguistic, cultural, and economic linkages with Latin America than does Italy, Fulci noted, "Italians not only discovered America, as well as helped build it, but also helped make up America." Today, there are large Italian communities throughout South America (particularly in countries like Argentina and Brazil). An Italian presence in the OAS gives greater visibility to the European country, and allows Rome to promote its commercial and economic interests in Latin America. Italy does not just participate as an individual member state in the OAS, but, as a member of the EU, it also plays an indirect role in the inter-regional partnership that links Brussels and the Community of Latin American and Caribbean States (CELAC).
Apart from the aforementioned and often indirect benefits it receives as a participant in the OAS, Italy also has much to offer to the region. It is, in fact, the only member state of the EU that has had extensive experience with organized crime, and thus trains police and enacts special legislation to deal with this often endemic problem. Italy is also able to lend its expertise in the promotion of small and medium enterprises. Italian collaboration on these issues has generally been successful, which is why it has become a major partner to the OAS and Latin America.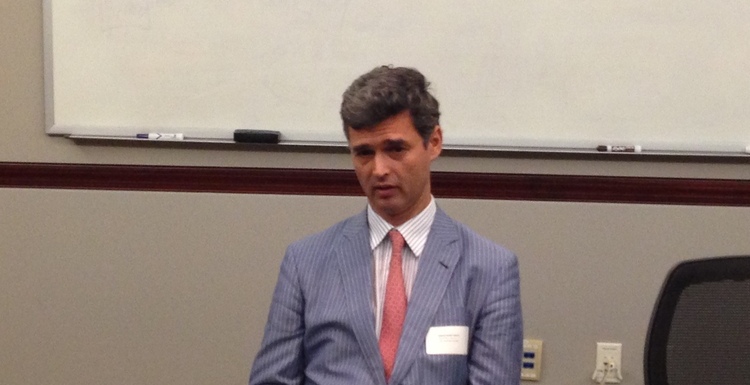 In regard to the current U.S. administration, Fulci finds that, "the approach [of the Obama government towards Latin America] has been the right one." Fulci acknowledged, however, that the influence of the Bolivarian Alliance for the Americas (ALBA) is growing due to the success of such institutions as "Petrocaribe," an alliance that allows Caribbean and Central American nations to purchase subsidized oil from Venezuela and establishes economic cooperation between the involved parties. In Fulci's opinion, the fact that the United States has not confronted or interfered with this regional partnership is indicative that Washington is making an effort to respect the autonomy of the region.
Concerning the report that U.S. intelligence agencies spied on the Italian embassy in Washington, Fulci said that his government did not react positively to this intrusion. Moreover, he underlined the fact that the United States gives preferential treatment to a number of its historical allies such as the United Kingdom, Australia, and Canada, while shirking other countries such as Italy and France, when it comes to respecting non-espionage agreements in which all these countries may be involved. Therefore, this issue may have some inconvenient effects on the relationship between the United States and the EU as a collective. In Fulci's opinion, this disparate treatment could potentially threaten the Transatlantic Trade and Investment Partnership negotiations because spying on a country that is party to a dialogue is a violation that can completely undermine the purpose of formal talks being undertaken.
Due to Italy's experience in combating the infamous mafia and other domestic criminal entities, Fulci believes that his country can provide a wealth of expertise and on-the-ground advice to Latin American countries that grapple today with the unsettling social and economic strength of the drug cartels and the corruption taking place in public offices that ordinarily accompany it. Furthermore, Ambassador Fulci drew parallels between the social entrenchment of the Italian mafia and the drug syndicates of Central and South America:
"In the beginning [the mafia] was also a secret organization that sought to protect the interest of the inhabitants. The problem now is that people rely on organized crime for their futures. If you go to school in Italy, children want to grow up to become mafia bosses. We see the same in Latin America."
Unfortunately, organized crime moves faster and adapts quicker than government authorities and law enforcement agencies do. Fulci explained ways in which Italy has "caught up" to these groups and how it is helping its Latin American partners to do the same.
Italy is carrying out some concrete activities aimed at the suppression of organized crime in Latin America. For example, the "Plan de Apoyo a la Estrategia de Seguridad de Centroamerica," (Plan for Support of Security Strategy in Central America) sends Italian anti-mafia prosecutors and police personnel to Central American countries. Under this framework, Italian personnel have undertaken the task of training and assisting Central American officials to conduct investigations and judicial proceedings against members of local crime syndicates, in order to improve upon the efficacy of domestic law enforcement officers tainted by corrupt practices. Furthermore, as drug markets now increase the tempo of their shift towards EU nations, Italy has been motivated to enter into agreements with the Mexican and Colombian governments in order to exchange intelligence regarding drug trafficking activities. Fulci also highlighted the need for some Latin American governments to enact special legislation that would leave crime bosses economically vulnerable such as the sequestration of goods, which would cut off resources that are necessary for criminal activity. According to Ambassador Fulci, Italy seeks to not only provide rehabilitation for drug addicts and former organized crime affiliates, but also aims to boost the economy by "cleaning up" violent areas to attract potential investors.
In his final point, Fulci mentioned a 2012 agreement with the Argentine government that addresses the issue of the overlooked desaparecidos of the infamous "Dirty War" in the South American nation. In an effort to discover what would become of the hundreds, even thousands, of Argentine citizens subject to "forced disappearances" under the former Argentine militarized regime, Italy and Argentina have launched a full scale investigation into the archives of the Italian Consulate's network in Argentina in order to look for witnesses connected to the desaparecidos that might shine some light on these tragic and unfortunate events.
Italy has launched interesting initiatives to curb the violence and corruption associated with the ongoing drug war in Latin America, yet these are clearly limited due to Rome's financial difficulties. However, Italy's renewed engagement with Latin America represents an opportunity to stimulate economic growth in both places. Either way, this explanation indicates that involvement in the region is not solely driven by concern for the welfare of the hemisphere, but probably motivated much more by Italy's own financial exigencies.
Beatrice Loayza and Filippo Ponz de Leon, Research Associates at the Council on Hemispheric Affairs
Please accept this article as a free contribution from COHA, but if re-posting, please afford authorial and institutional attribution. Exclusive rights can be negotiated.
For additional news and analysis on Latin America, please go to: LatinNews.com and Rights Action