Former DAS Chief Sentenced to Twenty-Five Years in Prison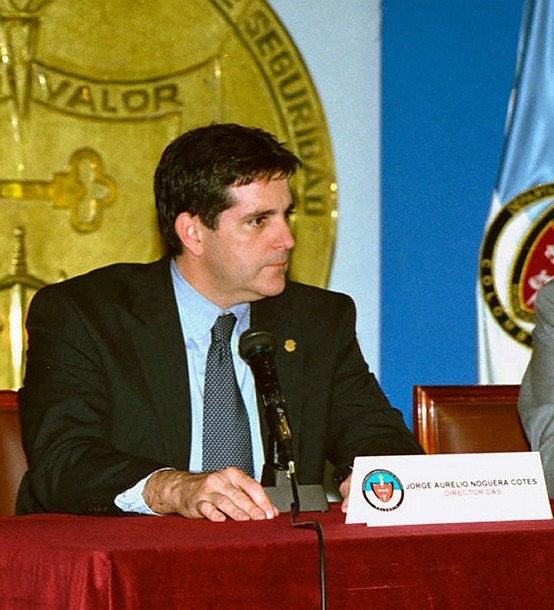 Jorge Noguera Cotes, the former head of the Administrative Department of Security (DAS), the Colombian state intelligence and security service, was convicted on September 14 of the homicide of Professor Alfredo Correa de Andreis, a prominent sociologist and human rights activist murdered in Barranquilla in 2004. The Criminal Chamber of Colombia's Supreme Court of Justice (CSJ) found Noguera guilty of homicide, aggravated conspiracy to commit a crime, the disclosure of secret information, and the destruction, suppression, or concealment of a public document, and sentenced the former DAS director to twenty-five years in prison. Noguera's conviction is just the latest event in a succession of revelations concerning the actions of state authorities during former President Álvaro Uribe's two terms.
Links between members of Uribe's government and right-wing paramilitary groups such as the United Self-Defense Forces of Colombia (AUC), long-suspected by Colombia analysts, were confirmed by testimonies presented by AUC members during the trial. The jailing of Noguera, DAS director from 2002-2005, shines a spotlight of suspicion directly on Uribe and raises questions about his knowledge of the activities of his state security service. It seems unlikely that Uribe was oblivious to the nefarious activities of the DAS in this period. Indeed, files released by the office of Colombia's Prosecutor General show that the intelligence agency specifically targeted Uribe's political opponents (opposition politicians, journalists, legal professionals, and human rights advocates) with  smear campaigns, sabotage, and accusations of collusion with leftist guerrillas. Right-wing paramilitaries comprised some of Uribe's most staunch supporters during his presidency, and allegedly canvassed on his behalf during his re-election campaign. Uribe, once the United States' closest and most dedicated Latin American supporter of the 'War on Terror' paradigm and a politician whose popularity was based upon his strong stance on law and order, must now answer uncomfortable but crucial questions. Civil liberties and human rights cannot be sacrificed for increased security; the Noguera case shows that this is precisely what has happened in Colombia.