Immigration Hearts Could be Shattered by Washington Breaking Their Dreams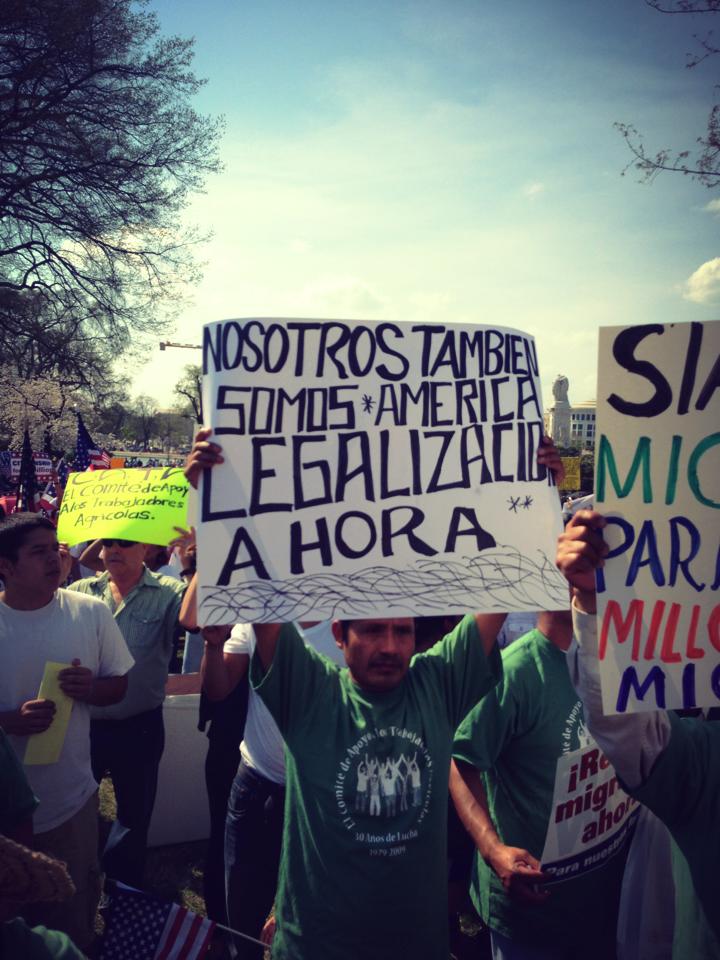 COHA Research on Immigration is an analysis of immigration-related measures being intermittently issued by the Council on Hemispheric Affairs.
On April 10, thousands of immigration reform supporters gathered together in front of the Capitol building in Washington, D.C. to rally for the inclusion of a reliable path to citizenship for the more than 11 million undocumented resident living in the United States. The multicultural crowd present that day included immigrant workers and leaders of civic organizations, voicing their opposition against current immigration laws. Overall, President Barack Obama was called upon to fulfill his campaign promise to reform the government's outdated and hostile immigration policy.
"We want a law that enacts the dream bill, for people to study, respect the rights of workers in all America and protect the most vulnerable children, women and LGBT communities," said Washington Mayor Vincent Gray, who attended the rally to show his public support for the reform's cause. Gray ordered the Metropolitan Police Department not to check the immigration status of the demonstrators. Other high profile attendees at the April 10 protest included some of the U.S. Senate's "gang of eight." In particular, Senator Robert Menendez (D-NJ) emphasized the impact that immigration has on the U.S. economy and its security interests. "We have to get those in the shadows of the system into the light to have an opportunity to earn their citizenship and be part of the dream," Menendez stated.
According to nationwide polls by USA Today, The Washington Post, and Gallup, the majority of U.S. citizens are in favor of immigration reform. [1] Nevertheless, the possibility of a comprehensive reform bill remains problematical. Although its main objective is to address how to ultimately regularize the status of the 11 million unauthorized immigrants, the bill also raises issues of regional concern. Border security is a key issue of special interest to states on the Mexican-U.S. border. According to the nationwide poll by YG Network, "two in three Americans believe the U.S. government needs to do more to secure our borders." [2] Nevertheless, it is critical that, whatever measures are taken to halt unauthorized crossings, these steps are placed within the context of improving the security of migrants. Attention should focus on the serious dangers immigrants routinely face, from robbery, extortion, rape, human trafficking, and murder.
There is a national consensus that the current immigration system is broken and that some decisions have to be made regarding the status of the undocumented population. The root of the problem goes back to the Immigration Reform and Control Act (IRCA), enacted in 1986. U.S. Citizen and Immigration Services describe IRCA as,
a bill that was passed in order to control and deter illegal immigration to the United States. Its basic purpose was to stipulate legalization of undocumented aliens who had been continuously unlawfully present since 1982, legalization of certain agricultural workers, and sanctions for employers who knowingly hire undocumented workers, and increased enforcement at U.S. borders." [3]
Unfortunately, the bill failed its purpose, and ended up actually attracting even more undocumented immigrants to the United States, rising from an estimated 5 million in 1986 to more than 11 million today [4].
Negotiations between legislators over this bill are based on a combination of conflicting interests. For instance, voices on the conservative side have been trying to deemphasize the topic of regularization of status while emphasizing border enforcement. Some conservatives make use of the recent terrorist attacks in Boston, as a strategy to delay the immigration reform, making it more challenging for congress to achieve consensus. [5]
Dreamers rally
Following the events of April 10, new legislation relating to immigration reform has been introduced in congress. Although the proposal will likely be debated for months and scores of amendments will be introduced, it nevertheless represents an important milestone in the struggle for reform. The bill, introduced April 16, would restructure a variety of immigration laws and provide a pathway for the more than 11 million undocumented immigrants to eventually apply for U.S. citizenship. Nevertheless, among some immigrants there is concern about the real agenda and primary purpose for immigration reform. According to Senator Charles Grassley (R-Iowa), the bill is "nothing but a starting point"—something that apparently many of the immigrants do not seem to be aware of.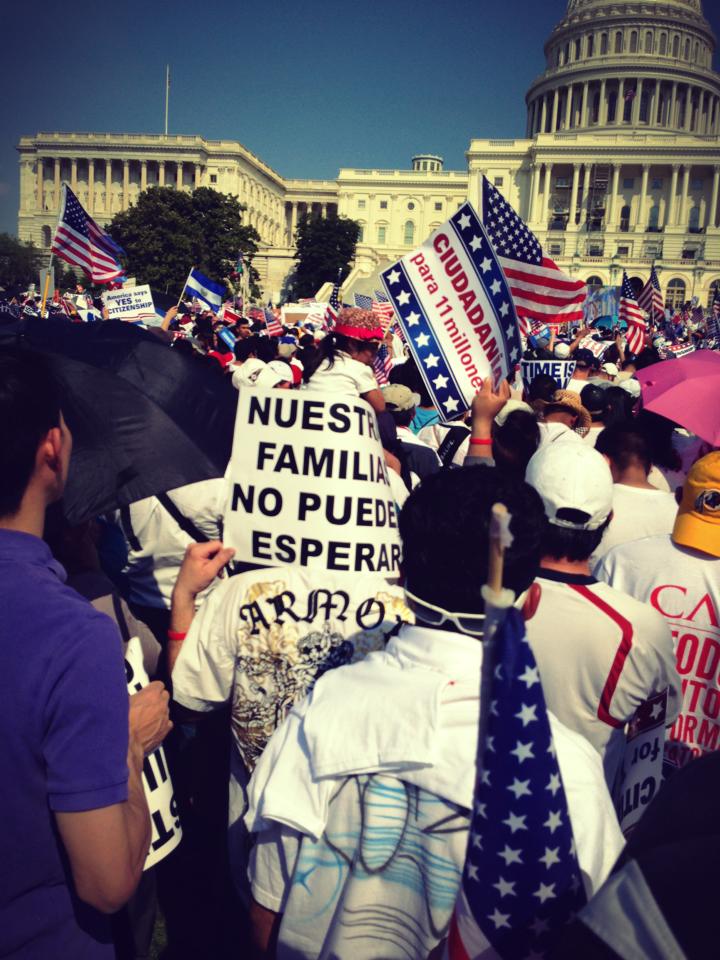 The problem is that there is a persistent lack of awareness that "citizenship for 11 million" will be harder to achieve than it might seem. In fact, a significant number of the 11 million may not, under the proposed law, actually be eligible for citizenship. The proposed bill would require applicants to prove they have arrived in the United States prior to December 31, 2011. Those immigrants who arrived after the cutoff would be excluded. In addition, undocumented immigrants would have to pay a $500 USD penalty fee and demonstrate that they do not have a criminal record. However, a provisional legal status for all of the 11 million undocumented immigrants would be granted after the bill is passed.
Senator Marco Rubio (R-FL) stated during an interview with Fox News that the bill does not represent amnesty or provide federal benefits for the immigrant workers. Rubio remarked that "the only thing that will happen is that they will have to stay in that status until at least ten years then the only thing they get is the chance to apply for a green card over the legal immigration system." [6]  Any federal benefits will not be available until a decade after their application has been approved and conditional upon U.S. border-control agencies showing that they effectively are stopping 90 percent of illegal crossings. [7] However, statements like this from Senator Marco Rubio serve to sew confusion. How, for example, would one measure the halt or decline in unauthorized crossing?
Even after going through the decade-long process of applying for citizenship, "green cards" will not be given automatically to family members or any immigrant. Many of these applicants would be referred to a new "merit-based visa" system. This process will probably cost applicants yet more money, with the chance that fees and penalties would add another $2,000 USD to the price tag for citizenship. [8]
The realistic approach: From 11 to 3.5 million
President Obama has declared his support for the proposed law even if it is not exactly what his vision of a bill was supposed to be.  "The bill is clearly a compromise, and no one will get everything they wanted, including me," Obama said. "But" the president added, "[The bill] is largely consistent with the principles that I have repeatedly laid out for comprehensive reform." [9] The president's inaugural address gave undocumented immigrants a reason to be optimistic that a bipartisan effort was being made to reform immigration laws; however, the proposed law offers only a long and difficult process for those who aspire to become citizens.
According to Latino Decisions poll, out of the 11 million current unauthorized immigrants living in the United States, only 3.5 million would be able to become citizens. [10] This number is far from the expectations of a good number of dream act dreamers, but it at least represents the beginning of a compromise to continue working on fixing a patently broken immigration scheme.
Pamela F. Izaguirre, Research Associate at the Council on Hemispheric Affairs
Please accept this article as a free contribution from COHA, but if re-posting, please afford authorial and institutional attribution. Exclusive rights can be negotiated.
For additional news or analysis on Latin America, please go to: Latin News
References
[1] "Immigration," Polling Report, 2013, http://www.pollingreport.com/immigration.htm.
[2] Murray, John, "Can Meaningful Immigration Reform Emerge Through The Rhetoric?," April 18, 2013, The Huffington Post, http://www.huffingtonpost.com/john-murray/can-meaningful-immigratio_b_3099643.html.
[3] Immigration Reform and Control Act of 1986 (IRCA), U.S. Citizenship and Immigration Services, http://www.uscis.gov/portal/site/uscis/menuitem.5af9bb95919f35e66f614176543f6d1a/?vgnextchannel=b328194d3e88d010VgnVCM10000048f3d6a1RCRD&vgnextoid=04a295c4f635f010VgnVCM1000000ecd190aRCRD.
[4] Plumer, Brad, " Congress tried to fix immigration back in 1986. Why did it fail?," The Washington Post, January 30, 2013, http://www.washingtonpost.com/blogs/wonkblog/wp/2013/01/30/in-1986-congress-tried-to-solve-immigration-why-didnt-it-work/.
[5] Rayflied, Jillian, "Steve King: Boston attacks should slow down immigration reform," April 16, 2013, Salon, http://www.salon.com/2013/04/16/steve_king_boston_attacks_should_slow_down_immigration_reform/.
[6] Carter, Zach, "Marco Rubio: Immigration Reform Compromise Isn't 'Amnesty,' Will Be More Onerous Than Current Law," The Huffington Post, April 14, 2013, http://www.huffingtonpost.com/2013/04/14/rubio-immigration-amnesty-_n_3080184.html.
[7] Cowan, Richard and Rachelle Younglai, "Senators unveil immigration reform bill," Reuters, April 16, 2013, http://www.reuters.com/article/2013/04/16/us-usa-immigration-congress-idUSBRE93F05520130416.
[8] Ibid.
[9] Roberts, Dan, "Obama welcomes 'compromise' put forward in immigration reform bill," The Guardian, April 16, 2013, http://www.guardian.co.uk/world/2013/apr/16/us-immigration-reform-bill-citizenship.
[10] Enten, Harry J., "Immigration reform won't deliver a Latino voter 'bonanza' to Democrats," The Guardian," April 23, 2013, http://www.guardian.co.uk/commentisfree/2013/apr/23/immigration-reform-latino-voter-bonanza-democrats.