Chinese Interest in Latin America's Growth
China's interest in Latin America is a fairly new phenomenon that has developed with the past decade. Since April 2000 when President Jiang Zemin became the first Chinese official to visit the region, commercial ties between the two regions broadened and deepened. The most recent development occurred at the end of June when the Premier of the State Council of the People's Republic of China Wen Jiabao completed his six-day four-nation tour in South America after the Rio+20 Conference had been staged.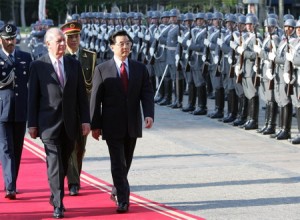 In his June 26 speech at the United Nations Economic Commission for Latin America and the Caribbean (UNECLAC), Wen announced his intention to boost economic cooperation between the two regions. With Chinese-South American trade already generating $240 billion USD annually, Wen expressed his aims to expand this exchange of goods and services to more than $400 billion USD in the next five years.
The Chinese government issued a policy paper on Latin America and the Caribbean in 2008 in which it proposed that China build a comprehensive and cooperative partnership based on equality, mutual benefit and shared development between the two parties. Even since, China has increasingly become one of the largest trading partners and investors in the region, drawn by its need for primary food products and other commodities including soybeans and soybean oil as well as natural resources such as iron, steel, and copper.
The Chinese government plans to collaborate with other emerging economies in order to prevent another financial crisis that would affect global liquidity and trade. Particularly, Wen has emphasized the importance of economic cooperation between developing countries as a means of overcoming hardship and finding a common way to foster sustainable development with other emerging economies amidst a global crisis. For this reason, Wen has signed bilateral agreements with Brazil, Argentina, Uruguay, and Chile and has committed itself to abandoning its pursuit of trade surpluses.  This means that Beijing intends to import n   ot only raw materials, but also manufactured goods and high value-added products from Latin America. The rationale behind this policy is to promote closer industrial links by tapping domestic production and encouraging positive spill-overs in people's livelihoods. Indeed, the Chinese government has voiced its intention to continue investing in new technologies and financing infrastructure projects such as railways, roads, ports, power plants, power grids and telecommunication facilities in order to achieve balanced and sustainable growth. Moreover, China has vowed to foster the buying power of its trade partners' domestic populations so as to meet its upper-supply as well as demand for goods.
Starting with Brazil, the two BRIC economies signed a preliminary deal to set up local currency swaps in order to boost their own financial reserves on June 22. In the following days, the Chinese state-owned company Sinopec concluded an oil-supply contract with the Brazilian Petrobras. With this ten-year deal, the Chinese company will purchase 200,000 crude barrels each day, while Petrobas will receive $10 billion USD from the China Development Bank. At the same time, Repsol and Sinopec have formed a joint venture in Brazil to create one of Latin-America´s largest private energy groups, in which China will own an estimated 40 percent of capital shares.
Similar outcomes have been achieved after official meetings with Argentine President Cristina Fernández de Kirchner. The two leaders signed deals covering issues from nuclear energy to trade in agricultural products. Importantly, the presence of China Development Bank and the Industrial & Commercial Bank of China Ltd. in Argentina will provide the necessary financial aid to extend infrastructure, such as railroads. For instance, Chinese banks have ensured a loan to finance the rehabilitation of the Belgrano railway in order to speed up the transportation of goods and raw materials.[1]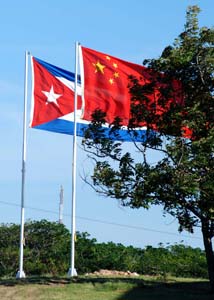 Such partnerships are now typical in Latin America.  Without taking into account other types of capital flow as portfolio investments, Latin America and the Caribbean recorded a 31 percent increase in the foreign direct investments (FDI) since 2010, immensely due to macroeconomic stability and high growth level perspectives amid global uncertainty. Indeed, as UNECLAC pointed out in the report entitled Foreign Direct Investments in Latin America and the Caribbean, $153.448 billion USD flowed into the region from all over the world in 2011 alone, bringing Central and South America's share of global inward FDI to 10 percent.[2] Generally speaking, the major investors have been the United States and Europe.
However, despite the cultural differences and the inconvenient distance that separates China from Latin America, in the last decade the "red-dragon" has become the third-largest investor in the region. In the last decade its visibility has increased due to its growing activity. The incredible amount of investments issued by China has marked a significant departure from centuries of U.S. and European contributions to Latin American development.
Why is China so stirred about boosting domestic markets in this region? There are two main drivers of Beijing's booming interest in South America.
First, China's perception of Latin America is changing. China is eager to reduce its economic dependence on European and U.S. markets, as their lack of liquidity is drying Western consumers' purchasing power. To maintain export-led growth throughout the financial crisis, China has sought to extend trade in new geographical areas and stimulate demand in Latin American markets. At the same time, China has sought to continue its development strategy based on low-cost resource productivity and its objective to decrease its production costs while gaining preferential access to natural resources. Consequently, Beijing authorities support Chinese firms in acquiring equity stakes and extending low-cost loans with a focus on companies involved in mining or oil enterprises.
Secondly, as a large number of analysts point out, China's long-term goal is to encourage the adoption of the yuan renminbi as the main international trade currency.[3] This step is considered essential for China to become a world-dominating economy. Due to its financial surplus and its banking reserve, China can afford a political strategy based on outward investment to extend its economic network and deepen its international influence through commercial ties.
Beijing's strategy has substantial potential. Indeed, China has enough financial resources to build a strong positive image of the country in Latin America that would rehabilitate its national and international economy. As well as implementing a successful foreign policy toward the United States during the last century, China is seizing the opportunity to acquire a prominent position in the global community. Its role in Latin America thus represents a critical development in world trades.
Please accept this article as a free contribution from COHA, but if re-posting, please afford authorial and institutional attribution.
Exclusive rights can be negotiated.
Citations:
[1] http://online.wsj.com/article/SB10001424052702304765304577481443984601980.html
[2] Foreign Direct Investment in Latin America and the Caribbean, 2011, Economic Commission for Latin America and the Caribbean (ECLAC). http://www.eclac.org/washington/noticias/noticias/5/21825/2012-05_CEPAL_News.pdf
[3] http://www.forbes.com/sites/kenrapoza/2012/04/12/china-yuan-inches-closer-to-global-currency/