Brazil: The Challenge for Itamaraty
Sean Burges, Ph.D, a Senior Research Fellow at the Council on Hemispheric Affairs (COHA) has published a new contribution to the ongoing debate about the democratic future of Brazilian foreign policy in Brazil's leading foreign policy journal Política Externa.
Entitled "Desafio para o Itamaraty" (The Challenge for Itamaraty), Burges's paper argues that Brazil's foreign ministry, popularly known as Itamaraty, suffers from the sort of "God complex" sometimes found in elite surgeons. Burges pointedly asks if part of the challenge currently facing Brazilian foreign policy is that the country's political leadership has become uncritically dependent on the expertise of Itamaraty and its highly accomplished diplomats. The problematic raised by Burges is that Itamaraty revels in a sense of elitism envied by many bureaucracies and quietly works to ensure that its privilege, position and autonomy within the Brazilian public policy system remains sacrosanct.
If you would like to receive a PDF copy of the article by Dr. Burges, please send an e-mail to the Council on Hemispheric Affairs ( coha@coha.org) with the subject line "Itamaraty Article Request." 
The article is available in English and Portuguese. The January 2013 article at the start of this debate is also available upon request in English or Portuguese.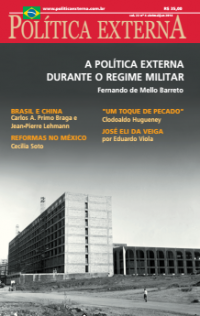 This article is the latest exchange of an ongoing debate in the page of Política Externa opened by Burges's provocative January 2013 paper "Seria o Itamaraty uma problema para política externa brasileira" (Is Itamaraty a problem for Brazilian foreign policy). Burges initial paper received a direct reply from Ambassador Embaixador Gonçalo de Barros Carvalho e Mello Mourão, current Director General of Brazil's diplomatic training academy, the Rio Branco Institute in the journal's November 2013 issue. These papers and critical commentary and analysis from other Brazilian scholars and analysts appear to have prompted Itamaraty's recently completed public consultations for the first major re-examination of Brazil's foreign policy principles in at least a decade. The 'White Paper' stemming from this exercise will hopefully be released later this year.
Sean W Burges (2014), "Desafio para o Itamaraty," Política Externa 22 (4) (Abr/Mai/Jun): http://politicaexterna.com.br/2395/desafio-para-o-itamaraty/
Dr. Burges, a Senior Research Fellow of the Council on Hemispheric Affairs for over a decade, has become one of the most prolific scholars on Brazilian foreign policy.  He holds a Ph.D. in Politics & International Studies from the University of Warwick, England. He is based at the Australian National University where he is a Senior Associate in the Australian National Centre for Latin American Studies and a Lecturer in International Relations. His research interests focus on Brazilian foreign policy, inter-American affairs and emerging market countries (BRICs) in world affairs, with special reference to trade and foreign aid. He is the author of Brazilian Foreign Policy After the Cold War (University Press of Florida, 2009), and has published on Brazil, inter-American affairs and democratization in International Affairs, Política Externa, Development Policy Review, International Relations, Third World Quarterly, The Bulletin of Latin American Research, The Canadian Journal of Latin American and Caribbean Studies, Canadian Foreign Policy, International Journal, and The Cambridge Review of International Affairs as well as in edited volumes with Johns Hopkins University Press and Palgrave Macmillan. His news and editorial contributions have been made to Swiss National Radio, the BBC World Service, Voice of America, The National Post, Miami Herald, Journal of Commerce, Financial Post, Washington Post, Washington Times, Maclean's, The Australian, The Canberra Times, ABC Australia Radio and TV, Sky News, Radio China International, Brazil Magazine, FOCAL Point and Military Review. Burges is currently working on the tension between the OECD member countries and BRIC countries in the new international economic and aid governance order as well as an extended research project on the state-business nexus in contemporary Brazilian development policy.
Please accept this article as a free contribution from COHA, but if re-posting, please afford authorial and institutional attribution. Exclusive rights can be negotiated. For additional news and analysis on Latin America, please go to: LatinNews.com and Rights Action.